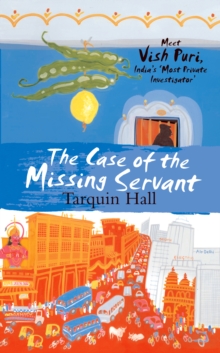 The Case of the Missing Servant
Hardback
Description
Meet Vish Puri, India's most private investigator. Portly, persistent and unmistakably Punjabi, he cuts a determined swathe through modern India's swindlers, cheats and murderers.
In hot and dusty Delhi, where call centers and malls are changing the ancient fabric of Indian life, Puri's main work comes from screening prospective marriage partners, a job once the preserve of aunties and family priests.
But when an honest public litigator is accused of murdering his maidservant, it takes all of Puri's resources to investigate.How will he trace the fate of the girl, known only as Mary, in a population of more than one billion?
Who is taking pot shots at him and his prize chilli plants? And why is his widowed 'Mummy-ji' attempting to play sleuth when everyone knows Mummies are not detectives?
With his team of undercover operatives - Tubelight, Flush and Facecream - Puri ingeniously combines modern techniques with principles of detection established in India more than two thousand years ago - long before 'that Johnny-come-lately' Sherlock Holmes donned his Deerstalker.
The search for Mary takes him to the desert oasis of Jaipur and the remote mines of Jharkhand. From his well-heeled Gymkhana Club to the slums where the servant classes live, Puri's adventures reveal modern India in all its seething complexity.
Information
Format: Hardback
Pages: 320 pages
Publisher: Cornerstone
Publication Date: 07/05/2009
ISBN: 9780091925635
Free Home Delivery
on all orders
Pick up orders
from local bookshops
Reviews
Showing 1 - 1 of 1 reviews.
Review by amodini
16/06/2015
I'm a big who-dun-it fan. Poirot is my favorite detective of all, followed by Precious Ramotswe and Sherlock Holmes. Poirot is Poirot because of all his eccentricities, so when I read of a desi equivalent, it piqued my curiosity.In this book, Tarquin Hall writes about Vish Puri, a 51 year old, portly, Punjabi private investigator plying his trade in Delhi. Puri, who's bread and butter is mostly investigating potential marriage alliances, is hired to clear the name of a lawyer accused of murdering a servant girl in his employ. Mary, the girl in question has disappeared and honest litigator Ajay Kasliwal accused of doing away with her, is embroiled in what looks to be a conspiracy put together by his corrupt enemies. Will Puri be able to stop them putting Kasliwal away for good ?As a detective novel, this book works although it doesn't have a very tight pace, and in that, it sort of resembles the "No. 1 Ladies Detective Agency" series, rather than a hardcore detective novel. Hall peppers the story with Puri's observations on Delhi and Indian society and government which make interesting reading. Plus Puri is typically Punjabi and Hall manages to introduce his very Punjabi characteristics into the mix.Puri has set up "Most Private Investigators Ltd." and is aided by nick-named employees in his work – there's FaceCream, Flush, TubeLight, DoorStop and HandBrake all so named for a reason. Then there's Puri's wife Rumpi, his mother "Mummyji", his secretary Elizabeth Rani, the servant boy Sweetu and Puri's friend "Rinku". Even Kasliwal has a nickname; Chippy. Puri and his family live in Gurgaon in a "white, four-bedroom Spanish-style villa with orange-tiled awnings, which they'd furnished from top to bottom in Punjabi baroque". Punjabi baroque indeed – I can quite picture that, LOL !In describing Puri's abode, Hall also gives us a brief history of Delhi, it's surrounding towns, and it's class structure: "Little had Puri known that in building a new home in Gurgaon, he had become a trendsetter. His move from Punjabi Bagh coincided with the explosion of India's service industries in the wake of the liberalization of the economy. In the late 1990s, Gurgaon became Delhi's southern extension, and was made available for major "development." . . . Concrete superstructures shot up like great splinters of bone forced from the body of the earth. . . . All this was built on the backs of India's "underprivileged classes," who were working for slave wages. They had arrived in Gurgaon in their tens of thousands from across the country. But neither the local authorities nor the private contractors provided them with housing, so most had built shacks on the building sites alongside the machinery and the brick factories. Before long, shantytowns of corrugated iron and open sewers spread across an underdeveloped no-man's-land."Puri himself is a mix of the old-fashioned and the new. He wears safari-suits and Sandown caps (he has 14 of them), and sports a moustache. At home, he relaxes in his silk dressing gown, and monogrammed slippers "VP". He drives around in an ambassador, giving that old beast it's due "Ambassadors might look old-fashioned and slow, but the latest models had Japanese engines." Although his blood pressure is up, he loves his Punjabi staples – pakoras. He also thinks that young people have no moral fiber and says as much in a letter to the "Times of India" : "A fellow is no longer happy serving society. Dharma, duty, has been ejected out the window. Now the average male wants five-star living: Omega watch, Italian hotel food, Duabi holiday, luxury apartment, a fancy girl on the side," Puri had written. "All of a sudden, young Indians are adopting the habits of goras, white people."Tarquin Hall, himself a "gora", manages to gauge and write about Indian society quite accurately. Even given that Hall has lived in India, his nuanced knowledge of India and it's customs is impressive. Hall's characters are nicely fleshed out, down to personal details, like the mother-son relationship between the doting (and nosy) Mummyji and Vish. The people in this book have an authentic feel, and Hall even manages to get them to speak in Delhi's "vernacular" English "Everything is all right, though, na ?" His novel is colorful and descriptive, bringing to life Delhi and it's residents with humorous, but true details: "And yet the arranged marriage remained sacrosanct. Even among the wealthiest Delhi families, few parents gave their blessings to a "love marriage," . . . Increasingly Indians living in major towns and cities relied on newspaper ads. The Singlas advertisement in the Indian Express had read as follows: SOUTH DELHI HIGH STATUS AGRAWAL BUSINESS FAMILY SEEKS ALLIANCE FOR THEIR HOMELY, SLIM, SWEET-NATURED, VEGETARIAN AND CULTURED DAUGHTER. 5'1". 50 kg. WHEATISH COMPLEXION. MBA FROM USA. NON-MANGLIK. DOB : JULY '76 (LOOKS MUCH YOUNGER)""The Case of the missing servant" was a very enjoyable read.