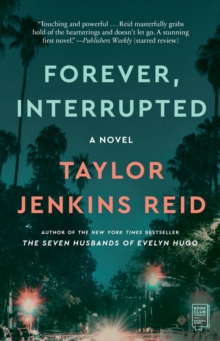 Forever, Interrupted : A Novel
Paperback
Description
"Have you ever heard of supernovas? They shine brighter than anything else in the sky and then fade out really quickly, a short burst of extraordinary energy.
I like to think you and Ben were like that . . . in that short time, you had more passion than some people have in a lifetime." Elsie Porter is an average twentysomething and yet what happens to her is anything but ordinary.
On a rainy New Year's Day, she heads out to pick up a pizza for one.
She isn't expecting to see anyone else in the shop, much less the adorable and charming Ben Ross.
Their chemistry is instant and electric. Ben cannot even wait twenty-four hours before asking to see her again.
Within weeks, the two are head over heels in love. By May, they've eloped. Only nine days later, Ben is out riding his bike when he is hit by a truck and killed on impact.
Elsie hears the sirens outside her apartment, but by the time she gets downstairs, he has already been whisked off to the emergency room.
At the hospital, she must face Susan, the mother-in-law she has never met-and who doesn't even know Elsie exists.
Interweaving Elsie and Ben's charmed romance with Elsie and Susan's healing process, Forever, Interruptedwill remind you that there's more than one way to find a happy ending.
Information
Format: Paperback
Pages: 352 pages
Publisher: Simon & Schuster
Publication Date: 09/07/2013
ISBN: 9781476712826
Free Home Delivery
on all orders
Pick up orders
from local bookshops
Reviews
Showing 1 - 5 of 7 reviews.
Previous | Next
Review by bonniemarjorie
18/08/2015
My rating: 2 of 5 starsA copy of Forever, Interrupted was provided to me by Washington Square Press for review purposes.'When you love someone so much that you've stuck around through all the interesting things that have happened to them and you have nothing left to say, when you know the course of their day before they even tell you, when you lie next to them and hold their hand even though they haven't said one interesting thing in days, that's a love I want. It's the love I was on target for.'Elsie and Ben: madly in love and only recently married. Forever, Interrupted opens with a short view of their life together and how apparent their love is before that picture perfect view is shattered completely leaving Elsie all alone. Dealing with the aftermath proves even more difficult than normal as Elsie is stuck explaining herself to a family that never knew of her existence. The story switches between the present situation and mixes in the story of when Elsie and Ben first met. We're already aware that there is an end in sight to their relationship, but getting a look back at when they met and how they fell in love was heartbreaking yet necessary. Obviously I need to explain the reasoning for the fact that I'm (currently) the ONLY one to have rated this book any less than 3 stars. So here it is. Ben and Elsie's courtship was quick and extremely spontaneous. I suppose that even though I personally have never had a perfect first date I shouldn't assume that they don't exist. But their first date was EXTREMELY perfect. And a quite a bit insta-love-ish. I ended up being a bit forgiving of that when they were able to think logically, take a step back, and realize things might be moving too fast."I think you and I are just...Yes, we are moving quickly but we're moving at a pace that feels natural for both of us."They were logical about it and both had intense feelings for one another so it managed to work somewhat for me. It was obvious that they truly loved each other eventually but the way it began (and the thoughts of 'I-love-yous' after like TWO DAYS) was severely unrealistic for me (as was Ben because he acted like no man that I've ever met.) While I admit I'm a total Grinch and it takes a lot to get me to cry (I didn't cry, for the record) I still found this to be quite a grievous story. What really struck me hardest was Elsie's parents reaction (and several other people she encountered). They were immediately dismissive of his death since she knew him for only a few months and was married to him even shorter than that. They understood she's going through some pain of course, but they dismissed the fact that she could even consider herself a 'widow'. People can be so terribly dismissive and judgmental of others feelings and yet have no idea what you could possibly be going through. Even her best friend was like that:"...at some point someone needs to remind you that you lost something you only had for six months. Six months. And I'm not saying this isn't hard, but it's not like you're ninety and you lost your life partner here."It was heartbreaking to witness people's unwillingness to simply be there for someone without judgment.Forever, Interrupted is a story about grief and about learning to overcome it and reassemble the pieces of your shattered life. While I wasn't the hugest fan of this novel, the ending was partially redeeming and managed to paint a very accurate portrait of grief and its indelible effects on you.
I received an advanced uncorrected digital galley of Forever, Interrupted by Taylor Jenkins Reid from NetGalley.com in return for my honest review.Forever, Interrupted juxtaposed the emotions of ecstatic, excited, all-consuming love with the feelings of heart-shattering devastation and desolation due to tragic loss. Elsie Porter married her husband, Ben Ross, only ten days prior to his death, and dated him for only five months prior to their elopement. Yet, for the short time that they knew one another, their love was intense and extraordinarily passion-filled. When Ben is killed in a bicycling accident, Elsie's world fell apart, and she slowly recovered through the help of the mother-in-law that she had never met.Through alternating chapters between the present and the past, the reader learned how Elsie and Ben met and fell in love, but also how Elsie was coping after the love of her life was taken from her. There were parts of the book that were a little sappy and their love story did progress very quickly, but this reader, who normally would not find a love-at-first sight story believable, enjoyed the novel immensely. I especially liked the relationship that developed between Elsie and her mother-in-law Susan. Rarely is the mother-in-law/daughter-in-law relationship portrayed so positively, and I very much liked that after conquering some realistic hurdles, these two women were able to form a loving bond with one another. I also loved, loved, loved the friendship Elsie developed with George Callahan, the older gentleman from the library. Though Mr. Callahan only visited the pages of the book minimally, his impact was far-reaching. If I had any complaints about the work it would be that it was a little too long, and that sometimes profanity was used where it was unnecessary and took away some of the credibility of the characters. Perhaps this is the way twenty-somethings speak to each other today, but I found the use of the profanity a distraction rather than an enhancement to the story.Don't be deceived into thinking that this book is Chick-Lit. It is a very substantial story addressing significant issues, but it was an easy and quick read too. I recommend reading it.
Review by whitreidtan
18/08/2015
When you are young and in love, you think that it will last forever. But there are so many ways that forever gets a lot shorter. And none is so sad as that of the early and unexpected death of a loved one. Taylor Jenkins Reid's novel, Forever, Interrupted, tackles that heartbreaking scenario and how one person moves on when there's still so much life to live without their love. Elsie and Ben have been married nine days when he heads out on his bike to pick up some cereal for Elsie. When he doesn't come home and she hears ambulance sirens, Elsie runs outside to discover that her new husband and soul mate has been hit by a truck and died instantly. At the hospital, as she starts to navigate the surreal situation, she discovers that Ben's mother Susan is still listed as his next of kin and she will have all the say in what happens with Ben's body and the funeral. As if this wasn't enough, Ben never told his mother about Elsie and Susan doesn't believe that they were married. And Elsie can't prove it because their marriage license hasn't even arrived in the mail yet. So instead of the two people who most loved Ben being able to come together and comfort each other in their grief, they are rivals at odds over what Ben wanted. The novel follows two plot lines alternating evenly between the two of them, one moving forward from Ben's death and one telling the story of Elsie and Ben's whirlwind romance. In the present, Elsie and Susan butt heads and have difficulty accepting each other or acknowledging the love that Ben had for each of them. Part of the trouble on Susan's part is not only that she is skeptical about the importance of Elsie in Ben's life but also the fact that she, like so many people in Elsie's life, minimizes Elsie's grief because she and Ben had only been married for such a brief time. In fact, they had only known each other for a handful of months before they got married. But what others don't appreciate is that Elsie and Ben's relationship and love affair was a completely real one, not just a fairy tale created after the fact. Ben was a sweet, romantic, thoughtful man and Elsie was totally head over heels, madly in love with him. The duration of their knowing each other had no bearing on the amount of pain Elsie feels at his loss. And after all, who can really quantify love on a timeline? This is a novel about learning to live again and to trust and appreciate those around you who also loved your love. It is a realistic, emotional, heart-wrenching read but has a surprisingly poignant amount of levity to keep it from overwhelming the reader with only intense sadness. The double stranded timeline works well here as a way to make Ben a fully rounded character and to explain why he never shared the fact of his intense and wonderful love for Elsie with his mother. Both Elsie and Susan handle their grief honestly even if very differently. And each must come to find a way to move forward and go on in the present even though they are shattered. Their gradual understanding of the depth of the other's love for Ben helps each of them grow and change. Reid has captured beautifully the range of emotions, the anger, the fear, and the wracking grief that often come in the wake of an early and unexpected death. The reader sympathizes with Elsie and comes to respect Susan's fortitude as she piles the loss of her only son on top of the loss of her husband only a couple of years prior. It is hard to keep dry-eyed when reading this but in the end it is true and hopeful and healing, if not more than a little bittersweet.
Review by ozzer
18/08/2015
Initially, I did not like this novel and was tempted to quit it because it felt like very conventional "chick lit". The tragic death of Ben, the husband of the newlywed narrator, Elsie Ross, gets your attention, but the novel then digresses into a lot of the dating scenes, which were quite predictable and conventional. Elsie and Ben just seemed too cute and loving to be believable. I continued reading because the mother-in-law, Susan, and the friend, Ana, seemed interesting. Susan is understandably skeptical of the marriage because she was not told about it and is struggling with the recent death of her husband, which she has not yet come to terms with. Ana is a dedicated friend, but has her own relationship problems. The novel slowly redeemed itself for me as it developed into a meditation on grieving and remembering; death and survival. Mr. Callahan, an aged patron of the public library where Elsie works, serves a mentor role for her. He tells her that she will recover and her life will be filled with surprises. He tells her about his history of lost love after his time at war. Susan also becomes a mentor, but she has many of the same unresolved issues, so she is somewhat less effective in this role. Believing in the abrupt change of her attitude toward Elsie required some effort.Reid uses the scenes where Elsie remembers to reveal what really happened between them; why the marriage license never comes; and how Elsie begins to heal. The ending is clever and demonstrates that Elsie and Susan begin to heal and embrace life while still holding on to some memories. Although some of the dialogue at the end between the two women was a little too uplifting for my tastes. Although it has flaws, the novel deals with its themes well enough to be recommended.
Review by Mrsmommybooknerd
18/08/2015
Did you ever read the first sentence of a book and know right then and there that this was a 5 stars book? Well that happened with me and FOREVER INTERRUPTED. I felt connected to the characters immediately, I was part of their world from that first sentence and stayed connected through the whole book.This story is a sad/happy story. You know from the back cover that Elsie faces the death of her new husband, Ben, shortly after they are married. You are also told that she is to face her mother in law, who was never informed of her son's relationship with Elsie, let alone their marriage. What unfolds in this story is the stinging truth of loss and grief, so honestly portrayed that it breaks your heart and a love story that is so uplifting, powerful and unforgettable. This story is about loss, finding peace within life's harsh circumstances and loving with your heart each and every moment. This is an amazing debut novel from a writer who knows how to write characters that you are instantly attached to, with compelling and rich story line. I cannot say enough how much I enjoyed this book and like the front cover says "this is not your average love story". 5 stars!!!!