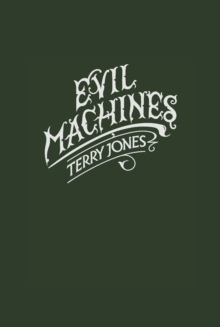 Evil Machines : When Monty Python Meets Roald Dahl...
Hardback
Description
How do you feel about your phone? Or your car? You probably don't think about them much, except when they go wrong.
But what if they go really wrong and turn properly bad - evil, even?
Join Terry Jones on a hilariously disturbing journey into the dark heart of machines that go wrong: meet the lift that takes people to places they don't want to go, the vacuum cleaner that's just too powerful, the apparently nice bomb, the truthful phone, the terrifying train to anywhere, and Mrs. Morris, a little old lady from Glasgow who turns out to be a very resourceful heroine...Brisk and cheerful on the outside, but as edgy and uncomfortable as any of Roald Dahl's Tales of the Unexpected within, Terry Jones' collection of thirteen cautionary fables will make you look at the 'helpful' inventions that surround you in a very different way.
A brilliantly-written and gleefully mischievous book, suitable for Luddites of all ages or anyone who likes a bit of Pythonesque edge to their silliness.
Information
Format: Hardback
Pages: 256 pages
Publisher: Cornerstone
Publication Date: 01/11/2011
ISBN: 9781908717009
Free Home Delivery
on all orders
Pick up orders
from local bookshops
Reviews
Showing 1 - 1 of 1 reviews.
Review by eclecticdodo
16/06/2015
An odd little book. At the start it seems to be a series of unconnected short stories about various evil machines. The truthful phone and the lift that takes you where you don't want to go are particularly good. From about halfway through it is one story, tying together the earlier chapters. While we really get inside the heads of some characters and particularly their failed familial relationships, the evil inventor is a bit one-dimensional; I found his arrogance revealed more of the author's prejudice against clever people than anything else. It's hard to tell who this book is aimed at. In some ways it is very childish, but there are certain adult themes that make me think it's a grown up book.