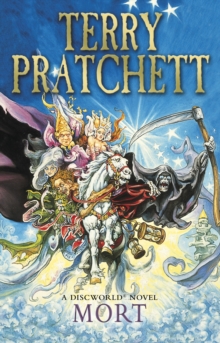 Description
Death comes to us all. When he came to Mort, he offered him a job. After being assured that being dead was not compulsory, Mort accepted.
However, he soon found that romantic longings did not mix easily with the responsibilities of being Death's apprentice.
Information
Format: Paperback
Pages: 320 pages
Publisher: Transworld Publishers Ltd
Publication Date: 18/11/1988
Category: Science fiction
ISBN: 9780552131063
Free Home Delivery
on all orders
Pick up orders
from local bookshops
Reviews
Showing 1 - 5 of 21 reviews.
Previous | Next
Review by Crowyhead
16/06/2015
I thought this was a re-read, and then I realized that I've read the other Death books, but never actually read this one! I loved it; Death has always been one of my favorite Discworld characters.
Review by lecari
16/06/2015
This was a present from an ex - I hadn't read it before, despite enjoying many other Discworld novels. I finished it in about three hours because I just couldn't put it down. Death is my favourite Discworld character, I love the way he looks at things and his witty sense of humour. My favourite scene was maybe in the pub, or when he was helping in the café - they had me laughing out loud! Mort was also good, and it was interesting to hear about Albert's past.
Review by reading_fox
16/06/2015
One of his early classics and often a recommended starting points for reading Terry's works. On the Discworld Death is an anthromorphic personifications - an embodyment of a metaphysical concept, hence he rides a horse an has a sythe becasue that's what people believe death does. Mort is a farmer's son all knees and elbows, steadfast and stubbon. When the nobody will take him as an apprentice he waits until the last stroke of midnight before going home. Fortunately death is never late. Death is slowly discovering what it means to be human - a reoccuring theme in Pratchett's work - and so he hires mort to be an apprentice while he goe soff to enjoy the four pleasures of being human: Drinking, fishing gambling and dancing?!Unfortunetly mort still has glands - those things that enable you to feel, and so the Princess isn't dead, but has still died and much confusion results!Great fun. Still not upto the best he can achieve but a worthy read, for more than just the jokes.
Review by miketroll
16/06/2015
Droll fantasy in which – inter alia - Death (the Grim Reaper) delegates his duties and discovers temporary happiness as a short order cook.
Review by wirkman
16/06/2015
The best of the Discworld books, by far. Well worth several readings, which is something you cannot say about most of these installments. The story and the characters, in this one, match the quality of both the silly humor and sly wit. A great fractured fairy tale, of Death taking a holiday, and his apprentice not being quite up to the job. All Life breaks loose . . . and that's not a good thing, apparently. Who knew?
Also in the Discworld Novels series | View all