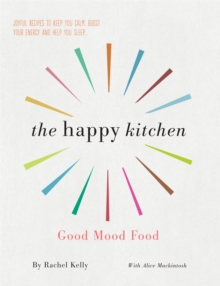 The Happy Kitchen
Paperback
Description
Did you know that your gut is responsible for producing around 90% of your serotonin, the chemical which makes you feel good?
Not for nothing are our stomachs referred to as our second brains...Since her last serious bout of depression in 2011, Rachel Kelly has evolved a broad holistic approach to staying well, but at the heart of her recovery has been changing the way she eats.
Over the past five years, she has worked with nutritionist and Food Doctor Alice Mackintosh to build up a repertoire of recipes that target particular symptoms, from insomnia and mood swings to stress and exhaustion.
The result is a cookbook which offers something different: a wonderfully calming and pleasurable read, with delicious recipes and meal planners, as well as sections that cover the Golden Rules for a Happy Kitchen and Super Good Mood Foods.
In 'Nutrition Notes' scattered throughout the text, Alice also explains the latest science on particular foods and their role in boosting our mental health.
Follow Rachel and Alice's advice, and without trying, you too will, week by week, become more energised, less anxious and cheerier.
Happy eating!
Information
Format: Paperback
Publisher: Short Books Ltd
Publication Date: 05/01/2017
Category: Mind, Body, Spirit
ISBN: 9781780722962
Free Home Delivery
on all orders
Pick up orders
from local bookshops