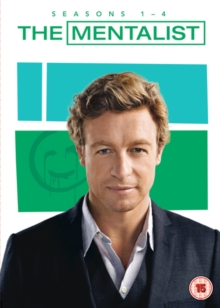 The Mentalist: Seasons 1-4
DVD
Description
The complete first four seasons of the American detective drama.
Patrick Jane (Simon Baker) is an independent consultant with the California Bureau of Investigation, who has the remarkable ability to solve serious crimes using his razor-sharp observational skills.
The episodes comprise: 'Pilot', 'Red Hair and Silver Tape', 'Red Tide', 'Ladies in Red', 'Redwood', 'Red-Handed', 'Seeing Red', 'The Thin Red Line', 'Flame Red', 'Red Brick and Ivy', 'Red John's Friends', 'Red Rum', 'Paint It Red', 'Crimson Casanova', 'Scarlett Fever', 'Bloodshot', 'Carnelian, Inc', 'Russet Potatoes', 'A Dozen Red Roses', 'Red Sauce', 'Miss Red', 'Blood Brothers', 'Red John's Footsteps', 'Redemption', 'The Scarlett Letter', 'Red Badge', 'Red Menace', 'Red Scare', 'Black, Gold and Red Blood', 'Red Bulls', 'His Red Right Hand', 'A Price Above Rubies', 'Throwing Fire', 'Rose-Coloured Glasses', 'Bleeding Heart', 'Redline', 'Blood in, Blood Out', 'Red Herring', 'Code Red', 'The Red Box', 'Aingavite Baa', 'Blood Money', 'Red All Over', '18-5-4', 'Red Letter', 'Red Sky in the Morning', 'Red Sky at Night', 'Cackle-Bladder Blood', 'The Blood On His Hands', 'Red Carpet Treatment', 'The Red Ponies', 'Pink Chanel Suit', 'Red Hot', 'Ball of Fire', 'Red Moon', 'Jolly Red Elf', 'Bloodsport', 'Bloodhounds', 'Red Alert', 'Blood for Blood', 'Red Gold', 'Red Queen', 'Bloodstream', 'The Red Mile', 'Every Rose Has Its Thorn', 'Redacted', 'Like a Redheaded Stepchild', 'Rhapsody in Red', 'Strawberries and Cream: Part 1', 'Strawberries and Cream: Part 2', 'Scarlet Ribbons', 'Little Red Book', 'Pretty Red Balloon', 'Ring Around the Rosie', 'Blood and Sand', 'Where in the World Is Carmine O'Brien?', 'Blinking Red Light', 'Pink Tops', 'The Redshirt', 'Fugue in Red', 'Always Bet On Red', 'My Bloody Valentine', 'Red Is the New Black', 'At First Blush', 'War of the Roses', 'His Thoughts Were Red Thoughts', 'Cheap Burgundy', 'Ruddy Cheeks', 'Pink Champagne On Ice', 'Something's Rotten in Redmund', 'Ruby Slippers', 'So Long, and Thanks for All the Red Snapper', 'Red Rover, Red Rover' and 'The Crimson Hat'.
Information
Format: DVD
Region: 2
Certification: (15)
EAN: 5051892113649
Catalogue number: 1000330786
Studio: Warner Home Video
Release date: 08/10/2012
Genre: Drama
Colour: Colour
Free Home Delivery
on all orders
Pick up orders
from local bookshops