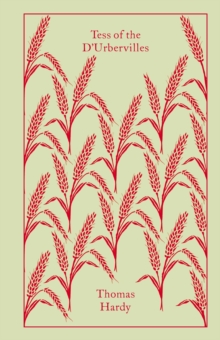 Tess Of The D'urbervilles
EPUB
Description
Part of Penguin's beautiful hardback Clothbound Classics series, designed by the award-winning Coralie Bickford-Smith, these delectable and collectible editions are bound in high-quality colourful, tactile cloth with foil stamped into the design.
When Tess Durbeyfield is driven by family poverty to claim kinship with the wealthy D'Urbervilles and seek a portion of their family fortune, meeting her 'cousin' Alec proves to be her downfall.
A very different man, Angel Clare, seems to offer her love and salvation, but Tess must choose whether to reveal her past or remain silent in the hope of a peaceful future.
With its sensitive depiction of the wronged Tess and powerful criticism of social convention, Tess of the D'Urbervilles is one of the most moving and poetic of Hardy's novels.
Information
Format: EPUB
Pages: 592 pages
Publisher: Penguin Books Ltd
Publication Date: 01/11/2008
ISBN: 9780141040332
Other Formats
Paperback from £2.50
CD-Audio from £12.15
Hardback from £10.19
Mixed media product from £12.66
EPUB from £0.99
Free Home Delivery
on all orders
Pick up orders
from local bookshops
Reviews
Showing 1 - 3 of 3 reviews.
Review by bookworm12
16/06/2015
Rarely have I ever had such a visceral reaction to a book. I have read a few other Hardy novels and so at this point I expect tragedy. But this one still blew me away. It broke my heart in so many ways, but Hardy's writing made the whole experience oddly beautiful, despite the inevitable disaster that you know if coming. The brilliance of his writing is just breathtaking. The scenes he creates are incredibly beautiful. Alec is such a brilliant villain because of the very fact that he is so relatable to different men. As Hardy himself says, Tess' own male ancestors probably did the same thing to peasant girls. It's so horrifying and common at the same time and Alec has no real understanding that what he's doing is wrong. He knows what he wants he decides he's going to take it. There's no consideration for anything else.Tess' family is poor, but they discover they are descendants of a wealthy local family. She is sent to befriend the family and see if they can improve her own family's situation. She meets Alec D'Urbervilles and soon her life is changed forever. I can't say too much more without spoilers, except that it's a powerful book, but not a cheery one. **SPOILERS**I've never hated a character as much as I hated Alec. He is a rapist, a manipulator, and worst of all, he honestly doesn't think he's done much wrong in the first half of the novel. At one point Alec says something about how Tess shouldn't have worn a certain dress and bonnet because it made her too pretty. The "you were asking for it" mentality was present even back then when dress was far more modest. It was so frustrating and infuriating. He manipulated every situation, forcing her to be alone with him, to rely on him for help, etc. His condescending nicknames made my skin crawl. When he calls her "Tessie" or "my little pretty" it made me nauseous because she was shrinking away from him and begging him quietly to stop touching her. She said again and again that she did not love him and she was scared of him. She never feels comfortable with him. From their very first interaction, as he makes her eat strawberries from his hand, she is uncomfortable and wants to go home immediately. There was no infatuation only a feeling in her gut that he was not someone to be trusted.On top of that, Angel's absurd double standard for his actions and her actions was infuriating. The worst part is that both men, the "good" one and the "bad" one share the same mentality about the situation. Both blame Tess but never themselves. The same attitude is around today, even though women have many more options, they are often shamed when they are sexually assaulted. The book is split into different phases and the second one begins after the infamous event. Tess is so broken; she's not even scared of him anymore because he's already done the worst to her that he could possibly do. She's resigned to her fate and full of sorrow. I kept thinking about how many other women over hundreds of years have gone through the same thing and are just completely broken afterwards and no one understands why. The man took something from her that she did not want to give and society treats it as if he didn't really do anything wrong. They justify it and say things like, maybe she gave off the wrong signals or put herself in a bad situation. It's just horrible.**SPOILERS OVER**BOTTOM LINE: This is not a cheerful book. Every time Tess' situation improves, heartache is just around the corner. But Hardy deals with it in such a raw and personal way that it is relevant even a century later. His writing transcends the subject matter and I've learned that I'll read whatever he's written. ** My Penguin Clothbound Classic edition discusses the different versions of the novel that were released. The original release presented a much harsher version of Hardy. Apparently he toned it down and made him more appealing in later versions, which is interesting. "'I shouldn't mind learning why the sun do shine on the just and the unjust alike,' she answered with a slight quaver in her voice. 'But that's what books will not tell me.'""The beauty or ugliness of a character lay not only in its achievements, but in its aims and impulses; its true history lay, not among things done, but among things willed."
Review by AlCracka
16/06/2015
I am currently sitting in a gorgeous B&amp;B in the very county where Thomas Hardy was born, a few miles from a hill Tess herself climbed. Sydling, in case you were wondering. Dorset. It's beautiful, and this book is really location-specific - Hardy spends an inordinate amount of time describing the countryside in minute detail, and you look out the window and yep, that's what it's like.<br/><br/>The advice I give to people who aren't feeling Tess, which never helps because if you ain't feelin' it it ain't gettin' felt, is to not take it too seriously. It's a Melodrama (capital M!). Everything in it is totally over the top. I thought it was a blast. Think of it as Hardy gleefully jumping the shark. The pheasant scene is what does it for me - you'll know it when you get there, it won't be long - it's beautiful and vividly drawn, but at the same time ludicrously overblown. That's the novel. Hardy is pulling the stops out. <br/><br/>No spoilers, I promise: The ending is the same deal. Some folks criticize it for being sortof "TA-FRIGGIN'-DAH!" But that's why I love it. Why <i>not?</i> In my opinion, anyone who hates that ending secretly wishes they'd thought of it themselves. Someone had to write that. Hardy did.
Review by kakadoo202
16/06/2015
the first 80% of the bookmare rather slow. lots of repetitions and hidden meanings that uounalmost miss the rape until you read that she has a baby. thrn you roll your eyes for a long time while thr main characters are courting and then again when they make themselves miserable. however, the ending was a surprise and for me the best part of the book when Tess finally took some action.