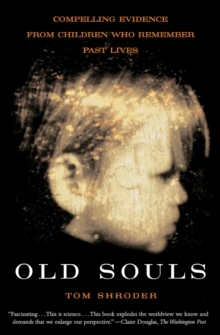 Old Souls : Compelling Evidence from Children Who Remember Past Lives
Paperback
Description
For nearly seven decades psychiatrist Dr. Ian Stevenson has been travelling the world, tracking reports of children who claim to have lived before.
Spontaneously they will recall vivid details about complete strangers who died before they were born, people they say they once were. And when the memories are checked against the facts of real lives, they match to an astonishing degree.
It took journalist Tom Shroder years to persuade Dr. Stevenson to allow him to accompany him on his field research, the first ever to have that privilege.
From the hills of Beirut, Lebanon to the slums of northern India, Shroder follows Stevenson as he struggles to understand the mysterious phenomenon of old souls reborn into new bodies.
What this sceptical reporter, 'who has stared inward but had never seen a ripple of any life but his own', observes shakes him to the core.
Information
Format: Paperback
Pages: 256 pages, 8 page photo insert
Publisher: Simon & Schuster Ltd
Publication Date: 25/08/2001
Category: Reincarnation & past lives
ISBN: 9780684851938
Free Home Delivery
on all orders
Pick up orders
from local bookshops
Reviews
Showing 1 - 4 of 4 reviews.
Review by sweetmelissa2005
16/06/2015
I wasn't that interested in the subject of past lives but this book changed that. Very well written and very interesting.
Review by goodnightmoon
16/06/2015
Hearing the many stories straight from the kids who remember the past lives is great. Reading the feeble attempt at scientific analysis of the stories is not so great (I was going to discuss how the subtitle "The scientific evidence for past lives" is really misleading, until I saw the new edition dropped it! That's appropriate.). This is the sort of book that provides more raw material for you to shape your own spiritual beliefs, rather than one that puts forth its own argument. Worthwhile for that purpose - and very readable.
Review by TheDivineOomba
16/06/2015
Its an interesting look at reincarnation. Whats nice about this book is that the author is a skeptic, initially, and at the end, is still a skeptic but open to suggestion - this means that you get the past life tale, but you also get the alternate theory. Also, the people in this story are average. There past lives are average. You will not find anybody claiming to be Cleopatra in this book.The book is straight to the point, does not gloss over the faulty evidence, while at the same time manages to capture Dr. Ian Stevenson and the children he documented who claimed to be reincarnated. I also want to add, this is the first description of India that actually seemed real... Usually, its described either as a place of strange beauty or the worst of the worst, but the India in this book seems like a real place.
Review by beverlymc
16/06/2015
For anyone who has ever listened closely to the amazing things that children say. The author gives you the evidence then allows you to form your own thoughts on the subject of past lives.