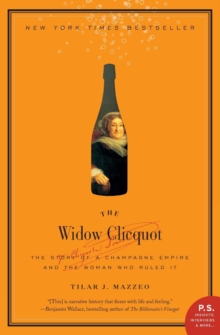 The Widow Clicquot: The Story of a Champagne Empire and the Woman Who Ruled It
Paperback
Description
Veuve Clicquot champagne epitomizes glamour and style, with tribute paid everywhere from Lord Byron to Casablanca.
But who was this young widow - the 'Veuve' - Clicquot, whose champagne sparkled at the courts of France, Britain, and Russia, and how did she rise to celebrity and fortune?
Newly widowed, she assumed the reins of the fledgling wine business she and her husband started, steering it through huge political and financial reversals to succeed as a single woman in a man's world.
Visitors flocked to see this cultural icon and taste the vintages she imbued with magic.
Information
Format: Paperback
Pages: 304 pages
Publisher: HarperCollins Publishers Inc
Publication Date: 06/10/2009
Category: Beverages
ISBN: 9780061288586
Free Home Delivery
on all orders
Pick up orders
from local bookshops
Reviews
Showing 1 - 3 of 3 reviews.
Review by Berly
16/06/2015
If you like champagne; or strong, independent women; history; or perhaps les Francais, you will definitely enjoy this book. This was an amazing tour of the Champagne region of France, the origins of champagne, a tumultuous period in French history, as well as the story of one of the most successful women entrepreneurs in history. It unfolds with interesting details, humorous reflections, and great insight: an amazing blend of history, adventure, and science. The book itself reminds me of champagne: effervescent and intoxicating (but not Brut!). I read it straight through in a day. Five stars.In this story, we follow the life of Barbe-Nicole Cliquot from cloistered early childhood in a nunnery to her success "at the helm of an internationally renowned commercial empire" and through to her death at the astoundingly ripe old age of 89, living decades beyond the average life span of the times. She had three major achievements in her career: "internationalizing the Champagne market," "establishing brand identification," and developing the process known in French as remuage sur pupitre—literally "moving by desk" (the process still used today to remove impurities without losing the fizz of champagne). Along the journey, the reader will discover, among other things, who actually invented champagne (was it the English or the French?), how sabrage (the art of opening a champagne bottle with a sword) came to be, and how the end of Napoleonic Wars would help cement champagne's broad commercial appeal as a drink of festivity and celebration.Details of women's lives back in the late 1700's were sketchy at best, unless you were royalty or married to someone famous. Barbe-Nicole Clicquot was neither, yet Mazzeo does a wonderful job of filling in the blanks. "I have found myself becoming a scavenger of uncollected details about her life and the world in which she lived…I wanted to discover not just what she did and when she lived, but how she was able to imagine for herself a different future and how she was able to negotiate those familiar crossroads of grief, despair, and opportunity. It sometimes took considerable imagination. The facts in this story are true—as true as history can make them…Barbe-Nicole was not, of course, immortalized in history at all--only the company that she created and the name she made famous survived beyond the end of the nineteenth century. I hope that here, at least, she has been the heroine of her own story." And so she is.
Review by librisissimo
16/06/2015
Very interesting story about the French widow who took over the family Champagne business and made an outstanding success. Lots of personal details - well documented. Like Moby Dick, it is full of interesting facts about wine-making and marketing, and sparkling wines in particular, plus lots of history of the period (Napoleon I through Napoleon III and Louis-Philippe).
Review by siri51
16/06/2015
Good to read while drinking Christmas bubbly - lots of history, biography and wine making details (perhaps too much of this)