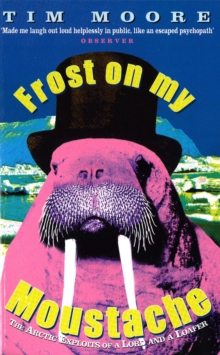 Frost On My Moustache : The Arctic Exploits of a Lord and a Loafer
Paperback
Description
Inspired by the swashbuckling travelogues of Victorian diplomat Lord Dufferin, frail surburbanite Tim Moore sets out to prove his physical and spiritual worth before his sceptical Nordic in-laws by retracing Dufferin's epic voyage to Iceland and Spitzbergen. Dufferin's battles with icebergs, polar bears and the deep potations of hospitable Norsemen is a tale of derring-do; Moore's struggle against seasickness, vertigo and over-priced groceries is all too plainly one of derring-don't. As his bid to emulate the Empire tradition of fearless pluck in the face of adversity crumbles before haughty Icelandic skippers, a convoy of Norwegian Vikings and Spitzbergen's Soviet ghost towns, he finds himself transferring his affections to Dufferin's valet Wilson, a man so profoundly gloomy that 'he was seen to smile but once, when told that his colleague, the steward, had been almost thrown overboard'. As Moore says, 'Dufferin seems the personification of Kipling's 'If'. I'm more of a 'But... ' man myself.' FROST ON MY MOUSTACHE is the wretched apologia of a big earl's blouse.
Information
Format: Paperback
Pages: 288 pages
Publisher: Little, Brown Book Group
Publication Date: 01/01/2000
Category: Travel writing
ISBN: 9780349111407
Free Home Delivery
on all orders
Pick up orders
from local bookshops
Reviews
Showing 1 - 2 of 2 reviews.
Review by gward101
16/06/2015
Back in the day being a travel writer must have been a breeze. Stick a pin in a map, pack yourself off to some foreign shore then write something exotic enough to keep your stay-at-home readers entertained and feeling as if they've learned something valuable about a place they're almost certainly never going to have the opportunity to visit.Nowadays of course thing are somewhat different.TV, the internet and cheap air fares mean that potential readers are more worldly-wise and well-travelled than ever before and today's generation of writers have to find something a touch more distinctive if they want to sell books. More often than not the hook travel writers now hang their hats on is humour. In fact many books are more comic adventure than they are travel writing. Hence we have Tony Hawks taking a kitchen appliance on a trip to Ireland (Around Ireland with a Fridge) and Danny Wallace embarking on an adventure which would take him around the world simply by deciding to say yes to any question he is asked (Yes Man). Tim Moore falls into the same tradition. This is, after all, a man who set off on a 500-mile pilgrimage to Santiago de Compostela for his book Spanish Steps, then decided to make it more medievally authentic by bringing along a donkey.Frost on my Moustache sees the author following in the footsteps of one of the first true travel writers - 19th century English aristocrat Lord Dufferin. Durrerin though, it turns out, hadn't taken the easy option when deciding where to head for. His travels had taken him on a series of adventures inside the Arctic Circle - adventures which Moore is woefully unprepared to recreate.Generally speaking I am a fan of this genre of comic/travel writing and Moore in particular, but while there were moments that made me laugh here it simply didn't engage me as much as some of his other books. Amusing, but ultimately forgettable.
Review by MiaCulpa
27/01/2016
Tim Moore is always good for a laugh and "Frost on my moustache", his first book, is amongst his best. Moore heads off to points north, following in the footsteps of Lord Dufferin, who wrote a travel book about his adventures in and near the Arctic Circle. Moore spends much of the book comparing himself with Dufferin with Moore coming up the worse. He recounts his trip on an England-Iceland ferry, which seemed to consist of him being violently ill the entire way, his journey around Iceland, complete with its hordes of miserly German cyclists, his close encounter with Jan Mayen and his visit to the wonderful Svalbard.I re-read this recently prior to my trip to Iceland and while the Iceland that Moore visited is less than 20 years old, progress means you don't recognise a lot of what he writes. But then I didn't have an encounter with a miserly German cyclist so there's an upside.