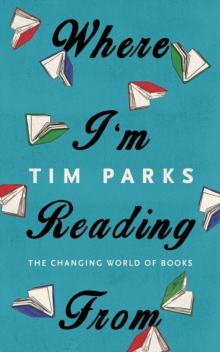 Where I'm Reading from : The Changing World of Books
Hardback
Description
Should you finish every book you start? How has your family influenced the way you read? What is literary style? How is the Nobel Prize like the World Cup? Why do you hate the book your friend likes? Is writing really just like any other job? What happens to your brain when you read a good book?
As a novelist, translator and critic, Tim Parks is well-placed to investigate any questions we have about books and reading.
In this collection of lively and provocative pieces he talks about what readers want from books and how to look at the literature we encounter in a new light.
These pieces were originally published as columns in the New York Review of Books.
Information
Format: Hardback
Pages: 256 pages
Publisher: Vintage Publishing
Publication Date: 06/11/2014
Category: Prose: non-fiction
ISBN: 9781846559037
Free Home Delivery
on all orders
Pick up orders
from local bookshops
Reviews
Showing 1 - 1 of 1 reviews.
Review by SandDune
27/08/2015
A compilation of a series of articles originally written for the New York Review of Books which deals with the current world of books: reading, writing, translation and publishing are all covered. As an British author and translator, who has lived in Italy since 1981 and whose work is also popular in a number of European companies, he has a particular interest in looking at the effects of globalisation, which as he illustrates with his own example, may be more complicated than first appears:<I>'To what community does a writer belong today? The whole world, might seem to be the obvious answer in an era of globalisation. Alas, it's not that simple. Take my own case. I am known in England mainly for light, though hopefully thoughtful non-fiction; in Italy for polemical newspaper articles and a controversial book about soccer; in Germany, Holland and France for what I consider my 'serious' novels Europa, Destiny, Cleaver; in the USA for literary criticism; and in a smattering of other countries, but also in various academic communities, for my translations and my work on translation.</I>It is the articles on the effects of globalisation and the increasing dominance of English, particularly American English, that I found most interesting, so I'll concentrate on a couple of these. In 'The Dull New Global Novel' Tim Parks argues:<I>There is a growing sense that for an author to be considered 'great' he or she must be an international rather than a national phenomenon. This change is not perhaps so immediately evident in the US as it is in Europe, thanks to the size and power of the US market and the fact that English is generally perceived as the language of globalisation, so that many more translations are from English rather than into it. However, more and more European, African, Asian and South American authors see themselves as having failed if they do not reach an international audience'</I>Many writers therefore are writing for their global rather than their home market, and this changes the way that they write. Anything which hinders international comprehension is downplayed: so nothing requiring an intricate knowledge of an individual country's own culture; not too much complicated wordplay and allusion, and no names that an English speaker can't pronounce. Parks's view is that this almost certainly dooms the sort of novel 'that revels in the subtle nuances of its own language and literary culture, the sort if writing that can savage or celebrate the way this or that linguistic group really lives, which in his (and my) opinion would be a great loss. You see this effect hugely in films, and I hate the idea of it becoming the norm in books as well. Films set in the UK (but with an eye on the US market) are frequently set in a London that's recognisable, and yet isn't at the same time. It's a London where people with precarious jobs apparently own houses that in reality would be completely outside their price range, a London where there are hugely more 'upper-class' accents that you would hear in real life, a London where it snows at Christmas, and above all is hugely less ethnically diverse that it is in reality. And it is always London (unless it's a cottage in the country), never Manchester or Birmingham or anywhere else.Continuing his theme in 'Art that Stays Home' he argues against the prevalent view that great literature rises above the society in which it is written by necessarily dealing with grand moral issues which transcend time and place, and can instead be so intensely rooted in its time and place that it is not well understood out of it. (The author Henry Green is mentioned in this context, probably the third time I've heard him mentioned in the last few months as a vastly underrated writer, so I must get around to reading him.)In 'Learning to Speak American' Parks considers his experience in preparing one of his own books, an exploration of the Italian national character through an account of a lifetime of travelling on its rail network, for its US publication. Using his spell check set to American spelling, and with a knowledge of normal US usage, he wasn't expecting too much difficulty. What he wasn't expecting was the degree to which the publishers expected the very Italianess of the book to be diluted. The twenty-four hour clock, ubiquitously used in Italy, had to be replaced by the twelve-hour one, Celsius replaced by Fahrenheit, kilometres replaced by miles, as well as numerous other wording changes (where the original wording would have been perfectly understandable on both sides of the Atlantic but just wasn't quite American English). It's a transformation that doesn't happen the other way around, and the extent to which it is expected on books being prepared for the US market worries Parks. As he says 'how far can literature really expose us to another world if everything is always returned to the reassuring medium of our own language exactly as we use it, with all our own formulas, dimensions, accents and habits?'So a thought-provoking and interesting read which would probably appeal to a lot of LT readers, particularly those who are interested in reading more globally.