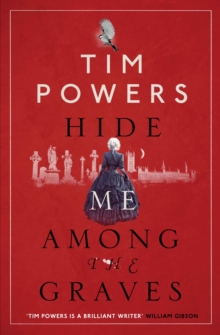 Hide Me Among the Graves
Hardback
Description
London, 1862. A city of over three million souls, of stinking fog and dark, winding streets. Through these streets walks the poet Christina Rossetti, haunted and tormented by the ghost of her uncle, John Polidori.
Without him, she cannot write, but her relationship with him threatens to shake London itself to the ground. This fascinating, clever novel vividly recreates the stews and slums of Victorian London - a city of dreadful delight.
But it is the history of a hidden city, where nursery rhymes lead the adventurer through haunted tunnels and inverted spires. And where the price of poetic inspiration is blood.
Information
Format: Hardback
Pages: 528 pages
Publisher: Atlantic Books
Publication Date: 01/09/2012
Category: Fantasy
ISBN: 9781848874053
Free Home Delivery
on all orders
Pick up orders
from local bookshops
Reviews
Showing 1 - 1 of 1 reviews.
Review by craso
16/06/2015
Christina Rossetti and her famous clan of poets and painters are haunted by their ghostly vampire uncle the author John Polidori. When Christina was fourteen her father showed her a stone figure that had brought him visions of their mother. Being a romantic, she rubbed her blood on it and put it under her pillow hoping for visions of her future husband. Now the family is damned by visions and death.Two very different people meet by chance on a cold winter night in London. They discover they are both being pursued by the same kind of vampire ghost creature. John Crawford, a veterinarian, and Adelaide McKee, a former prostitute, take shelter in Crawford's surgery. Four years later McKee arrives at Crawford's door with news that they have a daughter and that she has been taken by Polidori.This novel spans twenty years in lives of the characters. We see the destruction these creature cause as well as the joys. When a person is preyed on by one of these creatures they are given great poetic ability, at the same time they become part of their family and anyone who may take them away from the monsters is killed, usually a spouse or child. The author uses this plot point to explain some of the true historical events in the lives of the Rossetti family such as Dante Gabriel Rossetti's love of his muse and wife Lizzie Sidal who died tragically of a laudanum over dose after the death of her baby. Gabriel buried a manuscript of poems with her only to have her coffin dug up to retrieve it a few years later. There are other historical figures in the novel and the author uses these macabre ideas to explain their lives and actions.The author incorporates some of his trade mark plot devises in this novel. It is hinted that there is a dark world under London that we know nothing about. He also takes and ordinary man, John Crawford, and runs him ragged. I recommend this book to fans of Tim Powers, poets, Victorian settings, and vampires.