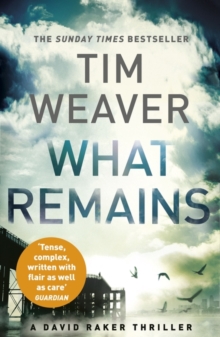 Description
The bestselling author of the David Raker series, including Fall From Grace and Never Coming Back, is back with a new missing person's investigation.
When all has been lost what is there left to find? Colm Healy used to be one of the Met's best detectives.
Until, haunted by the unsolved murders of a mother and her twin daughters, his life was left in ruins.
His failure to find an elusive killer - or even a motive for such a merciless crime - consumed him, his career and his family.
Missing persons investigator David Raker is the only friend Healy has left.
The only one who understands that redemption rests on solving these murders.
As they reopen the investigation together, Raker learns the hard way how this case breeds obsession - and how an unsolvable puzzle can break even the best detective.
Their search will take them down a trail of darkness, unravelling a thread of tragedy spanning years, and will force them to sacrifice everything they have left...'A lacerating investigation, taking the characters (and readers) into the furthest reaches of obsession - a dark, complex and visceral read' Barry Forshaw, Financial Times For fans of Broadchurch, The Missing, Michael Connelly and Linwood Barclay.
Praise for Tim Weaver: "Weaver's books get better each time - tense, complex, sometimes horrific, written with flair as well as care." (Guardian). "I couldn't put it down." (Sun). "Weaver has delivered another cracking crime thriller." (Daily Mail). "Weaver knows how to construct a complex plot...you will be kept guessing until the last few pages.
David Raker has joined a select band of fictional characters whose return in a new book excites existing fans and collects new ones with every publication...one of the more vibrant and unusual protagonists in modern crime fiction." (Crime Fiction Lover).
Information
Format: Hardback
Pages: 592 pages
Publisher: Penguin Books Ltd
Publication Date: 16/07/2015
Category: Crime & mystery
ISBN: 9780718181673
Free Home Delivery
on all orders
Pick up orders
from local bookshops
Reviews
Showing 1 - 2 of 2 reviews.
Review by Dianekeenoy
10/11/2015
What Remains is the 6th David Raker novel by Tim Weaver. He finds lost people. I've had to order his books from England but it's definitely worth doing so. This book finds Raker teaming up with Healy, a disgraced detective who lost his job, family and self respect after the unsolved murders of a mother and her twin daughters. Twists and turns you don't see coming will keep you reading long into the night!
Review by runner56
27/01/2016
David Raker Missing Persons Investigator is hoping to help an ex London Met detective Colm Healy find redemption and solve a case that has haunted him for 4 years and ruined his life, his work, and his marriage. That is the basis of this brilliant 500+ page thriller/mystery by up and coming author Tim Weaver and makes for complex yet very rewarding reading. The author had my attention from page one and held me spellbound for just over 2 days with many intelligent twists and changes in the storyline all adding to the tension and concluding in magnificient fashion. I particularly loved the London setting with the imagery and use of old wooden piers and the thrill and sound of victorian amusement arcades. Mr Weaver as an author writes with a great confidence and turns a complex plot into a thrilling ride, I look forward to David Raker's next outing....
Also in the David Raker series | View all