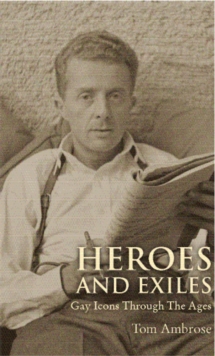 Heroes and Exiles : Gay Icons Through the Ages
Paperback
Description
Demonised by the Church throughout the Middle Ages and the Renaissance, homosexuals became the scapegoats of society, constantly facing exile or a brutal death.
In "Heroes to Exiles", the human cost of this long exile is told through the lives of the most eminent homosexual men and women in history.
Some were artists like the wild living Benvenuto Cellini or the repressed Edward Lear.
Others were poets such as Thomas Gray, W. H. Auden or novelists such as Henry James and A. J. Symonds. Their places of refuge changed through the centuries from Italy in the 18th, to Paris in the 19th and Berlin, California and Tangier in the 20th.
Some experiences were tragic, like those of William Beckford, Lord Byron or Oscar Wilde, and some were triumphant, like the remarkable story of the Ladies of Llangollen who became the most famous lesbians in Europe.
Often treated with outright suspicion, homosexuals were targets for the totalitarian dictatorships of the 20th century.
As such they were consigned in their tens of thousands to exile in Siberia or to the Nazi death camps. Even when peace returned after World War II most democracies still proscribed homosexual behaviour, forcing the Americans Paul Bowles and James Baldwin to seek exile in Europe and North Africa.
Today the tolerance of Ancient Greece has returned to most Western societies although homosexuals are still persecuted in some Islamic countries such as Iran.
In "Heroes to Exiles", Tom Ambrose asks if we have finally realised that sexual orientation is as irrelevant to character and achievement as gender and skin colour and if the long exile has ended.
Information
Format: Paperback
Pages: 224 pages, 8 page b&w plate section
Publisher: IMM Lifestyle Books
Publication Date: 25/01/2010
Category: Social & cultural history
ISBN: 9781847734686
Free Home Delivery
on all orders
Pick up orders
from local bookshops