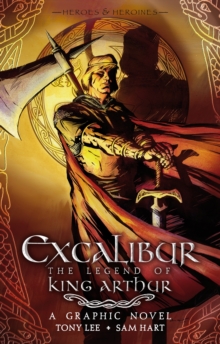 Excalibur : The Legend of King Arthur
Paperback
Description
In a dramatic and moving tale of trickery and betrayal, forgiveness and hope, the legend of King Arthur, his loves and losses, the fall of Camelot, his Knights of the Round Table, the secrets of his past and mysteries of his future, all come to bear in this visually stunning portrait of a man.
Before Arthur's father, Uther Pendragon, was murdered by Ulric, as a final act, Uther thrust his sword, Caliburn, into a rock.
Only a man true of heart would be able to draw and wield the weapon once more.
Until that time, Ulric would become King of the Britons, raining terror over all the land. And the people of Albion would wait for a beacon of hope.
The wizard Merlin knows just who that person is destined to be.
If Ulric is to be overthrown, then it is Arthur, son of Uther, who must pull out the sword and become the rightful leader of the Britons.
So, until Arthur comes of age, Merlin hides the future King - in so doing he strikes a dangerous bargain with the dark Unseelie Fae.
As the day approaches when Arthur will come of age, there are strong powers at play. Not everyone wishes for Arthur to succeed - for it was Morgana, Arthur's half-sister, who Merlin traded to the Unseelie, in place of her brother, all those years ago. And now the witch has a vengeful score to settle.
Free Home Delivery
on all orders
Pick up orders
from local bookshops
Reviews
Showing 1 - 1 of 1 reviews.
Review by shanaqui
16/06/2015
Obviously, when I saw this in the library, I couldn't pass it up. It's Arthurian, it's a graphic novel, and it's not just a straight retelling of the original stories. To me, that's actually a good thing as long as it hangs together, and this more or less did. I think the main problem is that there's far too much of the Arthurian legend to reduce into a single volume. Either you have to pick something particular to focus on, or you have to take your time. This felt a bit rushed. (On that score, there's a rushed quality to the art, but mostly I quite liked it.)I'm not really sure what to think of how they put this together, which sources they used or ignored. The whole Vivianne thing was a little confusing to me, as Nimue and Vivianne are meant to be the same person.It's hard to believe in deep enduring love when it takes about two pages to set up, if you're lucky, so emotionally this story didn't really work for me. I don't know if Arthur will ever transfer well into comic book form (though this now makes me tempted to make my comic for my class be based on Arthuriana), but this is a good effort. Apparently the same people did a Robin Hood comic as well, and I'm willing to bet that worked out better -- Robin Hood ballads were the comics of their day!