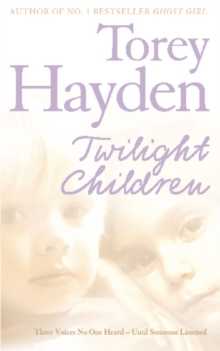 Twilight Children: Three Voices No One heard - Until Someone Listened
Paperback
Description
From the author of the phenomenal Sunday Times bestsellers 'One Child' and 'Ghost Girl', comes a startling and poignant memoir of three people's victimisation and abuse - and their heartbreaking but ultimately successful steps to recovery, with the help of Torey Hayden, an extraordinary teacher.
Two children trapped in a prison of silence and a woman suffering in the twilight of her years - these are the cases that would test the extraordinary courage, compassion and skill of Torey Hayden and ultimately reaffirm her faith in the indomitable strength of the human spirit.
While working in the children's psychiatric ward of a large hospital, Torey was introduced to seven-year-old Cassandra, a child who had been kidnapped by her father and was found dirty, starving and picking though rubbish bins to survive.
She refused to speak, so Torey could only imagine what she'd been through.
Drake, by contrast, was a charismatic four-year-old who managed to participate fully in his pre-school class without uttering a single word.
Then, there was Gerda, eighty-two, who had suffered a massive stroke and was unwilling to engage in conversation with anyone. Although Torey had never worked with adults, she agreed to help when all other efforts had failed.
Information
Format: Paperback
Pages: 416 pages
Publisher: HarperCollins Publishers
Publication Date: 02/01/2007
Category: Biography: general
ISBN: 9780007198207
Free Home Delivery
on all orders
Pick up orders
from local bookshops
Reviews
Showing 1 - 2 of 2 reviews.
Review by Heather19
16/06/2015
This is one *amazing* book. It's amazing in it's own right, it would be a wonderful fiction novel. Of course, the fact that it's a true-story makes it even more amazing. And frustrating. And horrible. And scary.Which is the way I always feel about Torey Hayden's books. Knowing that these things actually happened, that some people can actually be so heartless and cruel and horrid, it's just.... it's so scary.I really can't imagine how Torey does it. How she deals with all these unknowns, the frustration and confusion of not knowing the truth behind a child's rage, handicap, or whatever. Session after session, never seeming to get anywhere, taking so long to make any progress at all... I can't imagine.It's always hard to finish these books. I want to know more, more about what happened after the breakthroughs, after the end. The few scant paragraphs in the vain of "what they are doing now" seems so rushed and hollow after such a long detailed account of their past, their demons, their therapy... Getting to know the children through the book's pages, and then getting cut off so abruptly, is the one thing I don't like about this author's writing.
Review by PennyAnne
16/06/2015
An interesting true story of the author's work with three clients, each of whom has problems (presumed psychological) relating to speaking. We learn some of the background of these clients, how the author worked with them, and the outcome of that work. Torey Haydn has written many books about her work and they are all moving. I am always amazed at the lengths the human psyche will go to to protect itself.