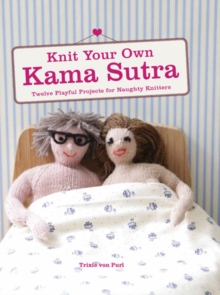 Knit Your Own Kama Sutra
Paperback
Description
Today's knitters may be spoilt for choice when it comes to cutesy project books, but even the most enthusiastic needle crafters are likely to become tired of the same old dogs, cats, and farmyard animals after a while.
Providing a delightfully refreshing antidote to this surfeit of cutesiness, Knit Your Own Kama Sutra offers a saucy and subversive take on the traditional knitting projects book, and is guaranteed to prove a resounding hit among jaded crafters everywhere.
Focusing on a variety of the most popular positions from the classic Kama Sutra guide-as well as a few of the more acrobatic ones-each of the book's 12 projects begins with a witty, light- hearted overview offering quirky facts and information relating to the position.
These are followed by clear, easy-to-follow knitting patterns and instructions that help to guide the reader through every stage of the project down to the last little detail.
Specially commissioned photographs accompany the instructions throughout so that readers can visualize each and every step. To add an extra element of fun, each project is also given a different setting-in addition to the bedroom, readers can choose to place their amorous couple in the back row at the movies, before the fire in a cosy log cabin, in the hot tub, or even make them members of the 'mile high' club!
Complete patterns and instructions are given for knitting up a wide variety of delightful accessories to accompany each scenario, including everything from mini cartons of popcorn to little knitted backpacks and hiking boots.
The 12 saucy couples featured in the book are all different to one another, allowing knitters to have fun with a variety of features such as hairstyles, glasses, and beards, as well as a selection of outfits, including everything from frilly suspender belts to snazzy briefs (and socks!)
Information
Format: Paperback
Pages: 112 pages
Publisher: Apple Press
Publication Date: 08/01/2015
Category: Knitting & crochet
ISBN: 9781845435943
Free Home Delivery
on all orders
Pick up orders
from local bookshops