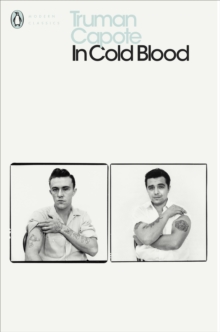 In Cold Bloodonsequences
Paperback
Description
The chilling true crime 'non-fiction novel' that made Truman Capote's name, In Cold Blood is a seminal work of modern prose, a remarkable synthesis of journalistic skill and powerfully evocative narrative published in Penguin Modern Classics. Controversial and compelling, In Cold Blood reconstructs the murder in 1959 of a Kansas farmer, his wife and both their children.
Truman Capote's comprehensive study of the killings and subsequent investigation explores the circumstances surrounding this terrible crime and the effect it had on those involved.
At the centre of his study are the amoral young killers Perry Smith and Dick Hickcock, who, vividly drawn by Capote, are shown to be reprehensible yet entirely and frighteningly human.
Truman Capote (1924-84) was born in New Orleans. He left school when he was fifteen and subsequently worked for The New Yorker, which provided his first - and last - regular job. He wrote both fiction and non-fiction - short stories, novels and novellas, travel writing, profiles, reportage, memoirs, plays and films; his other works include In Cold Blood (1965), Music for Chameleons (1980) and Answered Prayers (1986), all of which are published in Penguin Modern Classics. If you enjoyed In Cold Blood, you might like Jack Kerouac and William S.
Burroughs' And the Hippos were Boiled in their Tanks, also available in Penguin Modern Classics. 'It is the American dream turning into the American nightmare ...By juxtaposing and dovetailing the lives and values of the Clutters and those of the killers, Capote produces a stark image of the deep doubleness of American life ...a remarkable book' Spectator
Information
Format: Paperback
Pages: 352 pages
Publisher: Penguin Books Ltd
Publication Date: 03/02/2000
Category: True crime
ISBN: 9780141182575
Free Home Delivery
on all orders
Pick up orders
from local bookshops
Reviews
Showing 1 - 5 of 17 reviews.
Previous | Next
Review by hotchk155
16/06/2015
That this book was controversial in its time shows how times have changed. It is a scholarly and absorbing account of a nasty, pointless crime and how it changed the lives of those involved. The narrative is restrained and dispassionate and (for neccessary reasons) focuses mainly on the perpetrators. A lot of the description of various situations and dialog (particularly those leading up to the crime) one assumes to be down to the artistic license of the author rather than based in recorded fact, however if you don't let that annoy you this is quite a fascinating read. The motives of the crime turn out to be simple and the trail to the killers straightforward (though there are some odd factual coincidences that make you think some bizarre twist is going to rear up) however this does not detract from the interest of the story. Will have you getting up to check that front door again..
Review by Yorkshiresoul
16/06/2015
I've grabbed a few of the modern 'classics' in order to broaden my reading experience, the first one I picked, Jack Kerouac's On The Road was bloody awful, and so In Cold Blood, purchased at the same time, languished on my shelves for some months before I picked it up.This is a much better book though, Capote exhaustively interviews everyone involved with the brutal mass murder of a family in rural 50's Kansas and then recreates the events that led to the crime, the crime itself, and how the murders affected the murderers and the community.Capote tells the crime and its fall out as a story, slowly building up the characters of the doomed family and their almost conscience free killers. He does not dwell on the murders themselves in a glorifying fashion as many true crime writers seem to, but takes you deeply into the day to day lives of all the people involved.This is a sad and disturbing tale, the two murderers seem so comfortable with their crimes, so blase about what they have done. In researching their backgrounds we might expect to find all the things that we know makes up the psyche of a killer, the poverty, a miserable and abused childhood, poor education and lack of opportunites in life, but whilst one of the boys ticks all the boxes in this respect, the other just seems to be a normal boy who simply chooses to do evil, this is the uncomfortable truth that Capote confronts us with.Capote's research assisstant for this novel was Harper Lee who had won acclaim acclaim with 'To Kill A Mockingbird', perhaps that should be the next on my classics hit list.
Review by susannenewton
16/06/2015
One of the best books I've ever read. A must read.
Review by Elpippino
16/06/2015
Oh Jesus this book is powerful. I study a minor in philosophy and this book definitely delves far into the grey matter of how we perceive the world. Capote delivers a comprehensive outline of a complicated situation involving the dark side of the human condition. This book caused me to rethink the basic foundations of right and wrong, crime and punishment.
Review by riverwillow
16/06/2015
This is a fascinating and densely written book and rightly deserves the controversy surrounding it and Capote's relationship with the two murderers. This book has raised many questions for me about the morality of journalism and the death sentence, which I suspect will occupt my mind for many months if not years. The two films based on these events are interesting but this is a must read book.