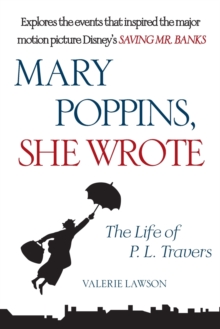 Mary Poppins, She Wrote : The Life of P. L. Travers
Paperback
Description
The story of Mary Poppins, the quintessentially English and utterly magical children's nanny, is remarkable enough.
She flew into the lives of the unsuspecting Banks family in a children's book that was instantly hailed as a classic, then became a household name when Julie Andrews stepped into the starring role in Walt Disney's hugely successful and equally classic film.
Now she is a sensation all over again-both on Broadway and in Disney's upcoming film Saving Mr. Banks. Saving Mr. Banksretells many of the stories in Valerie Lawson's biography Mary Poppins, She Wrote, including P.
L. Travers's move from London to Hollywood and her struggles with Walt Disney as he adapted her novel for the big screen.
Travers, whom Disney accused of vanity for "thinking she knows more about Mary Poppins than I do," was a poet and world-renowned author as tart and opinionated as Andrews's big-screen Mary Poppins was cheery and porcelain-beautiful.
Yet it was a love of mysticism and magic that shaped Travers's life as well as the very character of Mary Poppins. The clipped, strict, and ultimately mysterious nanny who emerged from her pen was the creation of someone who remained inscrutable and enigmatic to the end of her ninety-six years.
Valerie Lawson's illuminating biography provides the first full look at the life of the woman and writer whose personal journey is as intriguing as her beloved characters.
Information
Format: Paperback
Pages: 416 pages, 2-8pp photo inserts, index
Publisher: Simon & Schuster
Publication Date: 05/12/2013
Category: Biography: literary
ISBN: 9781476762920
Free Home Delivery
on all orders
Pick up orders
from local bookshops
Reviews
Showing 1 - 1 of 1 reviews.
Review by ceg045
16/06/2015
I received Mary Poppins, She Wrote as part of a Goodreads giveaway.<br/><br/>I'm not familiar with P.L. Travers or Mary Poppins. Growing up, I knew of the latter, but never read the books and only saw bits and pieces of the Disney film. For whatever reason, it wasn't one that grabbed me. Now with a resurgence of interest in Travers, due in large part to the recent film Saving Mr. Banks, this <br/><br/>The book moves along at a good pace, from Travers' childhood in Australia--the father and aunt that provided inspiration for Mr. Banks and Mary Poppins respectively--and her early career as a writer in England and Ireland, to the creation of the series whose legacy was both a great triumph and a great disappointment to its author. She's a truly fascinating figure, someone whose personality challenged conceptions of what an early 20th century woman "should be."<br/><br/>That said, this strength is also a weakness. Travers is a difficult subject for a biography--she's enigmatic and not particularly warm and fuzzy. Her life story is interesting, but not particularly happy, and I think that some readers may have difficult connecting with that.<br/><br/>Nearly 20 years after her death, though, I'm glad her story is finally being told. It's always a good thing to see a strong woman profiled who breaks the mold of convention.
Also by Valerie Lawson