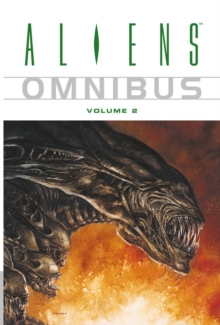 Aliens Omnibus : Volume 2
Paperback
Information
Format: Paperback
Pages: 456 pages, 1
Publisher: Dark Horse Comics,U.S.
Publication Date: 05/12/2007
Category: Science fiction
ISBN: 9781593078287
Free Home Delivery
on all orders
Pick up orders
from local bookshops
Reviews
Showing 1 - 1 of 1 reviews.
Review by JonathanGorman
16/06/2015
When I was a kid my brother managed to pick up a copy of some of the Aliens comics. Those issues involved the story arch from the first volume and had the vivid nightmare sequences that stuck in my head. They touched on aspects of the first two movies (which I saw a long, long time ago) that truly were spooky and added elements of a smothering weird alien "mother" aspect to the feelings of rape/parasitic horror.Apparently though that particular issue was the highpoint of the collections so far. Volume 2 just struck me as muddled, full of poor artwork, and lots of flaws.Let's start with some of my issues:* I must admit to not being an Aliens aficionado or hardcore fan. A glossary would be great, particularly for the last story. (There's a dramatic revelation where the villian is....someone I've never heard of ! Yay!). A glossary or timeline is almost necessary, although I suspect some of the stories don't really fit in any timeline.*There seems to be some odd editing. Reading some other reviews elsewhere seems to indicate that these omnibuses were edited yet again. I wonder if they were edited for the better.* By the end of this volume the aliens end up feeling more like something out of "Storm Troopers". Nothing to be afraid of if you've got a big enough gun. Just annoying insects. Worse case scenario? Just light a torch and the Frankenstein monster will run away. Oh, sorry, I mean the bizarre creatures who can survive in absolute vacuum and bleed acid. There were some interesting developments like possibly mutated aliens (does the lifeform they incubate affect them?) that could have explored more.The middle story was ok, but almost feels like the Aliens were unnecessary. The whole evil corporation/government entity that puts an egomanic in charge who thinks he can harness the Aliens feels overdone and poorly executed in several of the stories.And for crying out loud, after the aliens have overrun Earth once and folks have had countless encounters with them, we're expected to believe (as happened at least once or twice in this volume) trained marines will wander into a structure made of flesh and bone with strange things scurrying around and spend minutes saying things like "What's this weird stuff?" "Is it organic?". Flipping through the third volume the art looks drastically better, I'll give them one more shot. It certainly looks like the comics range from creators and editors who really liked the series and are able to empathize the horror aspect and issues just cranked out to capitalize on the movies popularity.