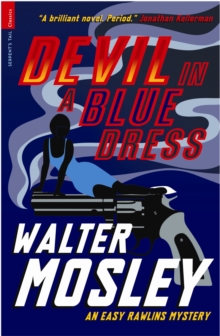 Devil in a Blue Dress
Paperback
Description
Los Angeles, 1948: Easy Rawlins is a war veteran just fired from his job.
Drinking in a friend's bar, he wonders how to meet his mortgage when a white man in a linen suit walks in, offering good money if Easy will locate Miss Daphne Monet, a blonde beauty with a reputation.
In the sleazy, fearful city, Easy must rely on his instincts, not just to solve the case, but to save his life.
Information
Format: Paperback
Pages: 224 pages
Publisher: Profile Books Ltd
Publication Date: 06/05/2010
Category: Crime & mystery
ISBN: 9781846686832
Free Home Delivery
on all orders
Pick up orders
from local bookshops
Reviews
Showing 1 - 2 of 2 reviews.
Review by clfisha
16/06/2015
"When he looked at me I felt a thrill of fear, but that went away quickly because I was used to white people by 1948"This is a fantastic piece of noir, written in the modern day but set in the noir heyday of the late 40s it combines pitch perfect noirish tropes with extra frisson gained from modern sensibilities. This is a dark, violent and sexy tale, oh nothing gratuitous but nothing is hidden away either, no flirty subtext here.There's extra edginess from having a black protagonist in the 40s, the stakes seem much higher, racism is endemic and there's no such thing as a good cop. Mosley's writing is superb, I was right there in the 1940s rooting for Easy to get the bad guys, save himself from the cops and pay off his mortgage (Oh the contrast of this banality and crooks, speakeasy's and femme fatales is just delicious).Ok I adore a good noir (they are so rare) so I may be a tad gushing but this is must for crime fans, in fact its well worth anyone's time, this is a great showcase for the genre.
Review by col2910
16/06/2015
Synopsis/blurb..........The time is 1948. The town is Los Angeles. The hero is Easy Rawlins, an out of work black war veteran. The mortgage payment's coming due, so Easy accepts the assignment of finding Daphne Monet, a blonde torch singer with a penchant for jazz and criminal black consorts. In his search through a sleazy, fearful city, he is lucky to be under the protection of the murderous Mouse who wants a piece of the action. Easy Rawlins is a fascinating creation driving a plot that carries a fine and bitter sting. With this first novel, Walter Mosley made a distinctly confident start to his career as a great and inspirational writer.This was October's monthly Pulp Fiction Group read over on Goodreads site. I can't honestly recall whether I voted for this or one of the three alternatives, but having read this debut novel many years ago, I wasn't too unhappy to re-visit it.Mosley's Devil In A Blue Dress was originally published back around 1990 and introduces us to one of the author's enduring characters – Easy Rawlins. To date, there have been twelve books in the series. Ten of the titles have colours in them; red, white, black, yellow etc – and two titles, curiously in my opinion don't - Gone Fishin' and Six Easy Pieces. (Anyone know why? Just curious.) Easy Rawlins is a black man getting by in LA after the war. A veteran of the conflict, Rawlins has seen and participated in his share of killing. Until recently he's been working as a mechanic at an aviation plant. Rawlins has pride, which for a black man can be an expensive commodity in post-war LA. You can hate him for his colour, but you better respect him. After losing his job at the plant, an acquaintance points mighty whitey De Witt Allbright in Easy's direction. Allbright want to engage Easy to find Daphne Monet. Easy with his home to protect and his mortgage coming due accepts the job. Rawlins starts asking questions around Monet's haunts. After a late night drinking session and then more intimate discussion with Coretta James, after her man passes out drunk, Easy gets pumped himself for detail. A day or so later he's arrested and beaten by the police for reasons then unknown. When our man finds out that Coretta is dead and certain other parties seem interested in locating Daphne, LA becomes a dangerous place for a black man who can either be a patsy for the police and framed for the death of Coretta or a casualty at the hands of Allbright if Easy doesn't come through for him. Verdict.......short at 220 pages long, detailed with a great depiction of LA shortly after the war. Mosley shows us life within the black community and the problems encountered when crossing over the racial boundary geographically and also when interacting with white authority. There's a reasonable amount of carnage and death along the way, as Easy with the assistance of an old friend, Mouse eventually survives the fall out to breathe another day. (Having previously mentioned that this is the start of a long-ish series, I hardly think I've gone and spoilt it for you!) I'm looking forward to reading more from the series in the next year or two – only 11 to catch up on!4 from 5I acquired my copy recently second hand and cheap after being unable to locate my original