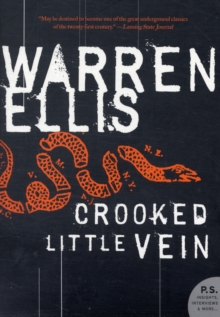 Crooked Little Vein : A Novel
Paperback
Part of the P.S. series
Description
A burned-out private detective is enlisted by an army of presidential goons to retrieve the U.S.
Constitution...the real one.
Information
Format: Paperback
Pages: 304 pages, black & white illustrations
Publisher: HarperCollins Publishers Inc
Publication Date: 01/08/2008
ISBN: 9780061252051
Free Home Delivery
on all orders
Pick up orders
from local bookshops
Reviews
Showing 1 - 5 of 7 reviews.
Previous | Next
Review by darkeye11547
16/06/2015
Warren Ellis proudly dangles his genius in our faces again with this one. If you're from the internet, like me, nothing in this book will be particularly shocking. The imagery is wonderful and you'll be chuckling knowingly as you read his prose.If you aren't from the internet, however, you should probably either avoid this book completely or read alone with the curtains drawn. Not that it's overtly sexual, but you're not going to want the guy next to you on the bus reading over your shoulder.Not recommended for children, children at heart, the childish, or the crotchety.
Review by bzedan
16/06/2015
There's a million reviews out there for this and so I'll make this one short: I've never seen perversion so gleeful.There are a couple of patches where it doesn't work, but overall, Ellis knows how to use his ability to write fantastically tight and sharp short pieces to make an entire novel. It's vignette-y, but it ties together. It's a quick read because it pulls you in and chokes you lovingly until it's done.
Review by vegetarianlibrarian
16/06/2015
This one was suggested to me by a friend and when I read the description, I was like, no. Too edgy for me-of-the-weak-stomach. And there were definitely parts that were difficult to stomach! The comedy leans strongly toward the black and sick, but the novel reminds me of Carl Hiaasen - but like more messed up. The humor was similar - if darker - but, in the end, cosmic justice is meted out. The ending is surprising, and not just for its (relative) happiness. I liked it a lot, and I have suggested it to a few others. I will definitely try some of Ellis's graphic novels - probably.
Review by Littlemissbashful
16/06/2015
Entertaining, comic and vilely disgusting in varying measures - Having read the authors comments I was vaguely apalled that some of the most off colour excesses were reality based rather than fiction and I find myself asking - "Do they really provide Jesus shaped butt plugs in Las Vegas?" - In fact to be frank, prior to reading this I had no idea such a thing as a butt plug even existed....but then I guess you live and learn.
Review by heatherhoarder
16/06/2015
This is a wonderful example of an author adding profanity and sexual fetishes in an attempt to add interest and edge. Elements of the story and the characters seem to not have been fully developed. It seems as if the author was making an attempt to portray a political/social satire, but not achieved. These stereotypical characters make the book tedious. There is some humor in the book that almost makes it bearable.