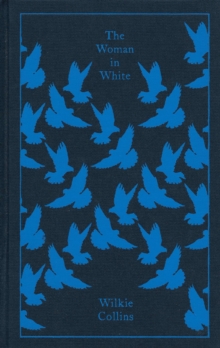 The Woman In White,
Hardback
Description
Part of Penguin's beautiful hardback Clothbound Classics series, designed by the award-winning Coralie Bickford-Smith, these delectable and collectible editions are bound in high-quality colourful, tactile cloth with foil stamped into the design.
The Woman in White famously opens with Walter Hartright's eerie encounter on a moonlit London road.
Engaged as a drawing master to the beautiful Laura Fairlie, Walter is drawn into the sinister intrigues of Sir Percival Glyde and his 'charming' friend Count Fosco, who has a taste for white mice, vanilla bonbons and poison.
Pursuing questions of identity and insanity along the paths and corridors of English country houses and the madhouse, The Woman in White is the first and most influential of the Victorian genre that combined Gothic horror with psychological realism.
Information
Format: Hardback
Pages: 720 pages
Publisher: Penguin Books Ltd
Publication Date: 28/09/2009
Category: Classic fiction (pre c 1945)
ISBN: 9780141192420
Other Formats
Paperback from £2.50
Hardback from £8.35
CD-Audio from £16.25
EPUB from £0.99
Free Home Delivery
on all orders
Pick up orders
from local bookshops
Reviews
Showing 1 - 3 of 3 reviews.
Review by bragan
16/06/2015
I absolutely loved Wilkie Collins' <I>The Moonstone</I>, so I was really looking forward to reading this one. Alas, whereas <I>The Moonstone</I> started slow but eventually picked up to the point where I didn't want to put it down, <I>The Woman in White</I> started slow and stayed there. The plot -- which involves a woman whose husband is desperate to get his hands on her money and another woman who happens to look just like her, who has recently escaped from an asylum, and who supposedly knows a secret that could ruin the husband -- is decent enough, in a slightly ridiculous way. And it has at least one really good character, in the person of the glib, deceitful, narcissistic Count Fosco. But it all just draaaaaaags. Maybe that wasn't nearly as noticeable when it was first published, in installments, but that fact doesn't particularly help me much. Also, it's a bit difficult for me to get really lost in a story when I'm spending much of it feeling unable to concentrate much on anything but how incredibly, deeply grateful I am, as a woman, not to have been born in the 19th century, with its stereotyped views of women's places and women's natures, and its stultifying ideas about the nature of marriage. It is, of course, terribly unreasonable to judge a hundred and fifty year old novel by modern standards, but acknowledging that still doesn't change the fact that it's harder to enjoy a story when I keep thinking about how having to live in its world would make me feel downright suicidal.Rating: 2.5/5. Which I know is unfair. Objectively, it's probably better than that. But I was just so very tired of it by the end that I can't bring myself to rate it any higher.
Review by jolerie
16/06/2015
A drawing master by trade, detective sleuth by choice, and smitten with ill timed love by fate, Walter Hartright shares with us a story that began with a mystery encounter with a woman in white on a dark and foggy night. The identity of this mystifying lady, her plight and struggle becomes the central focus of the book in which all other characters participate in sharing. Wilkie Collin's epistolary novel is filled with all the components which make for a great and timeless classic. The characters are memorable, enter Mr. Fairlie and his anal but hilarious ways, Marian Halcombe, a heroine who can stand solidly on her own two feet; the drama is gripping as we discover the identity of the woman in white and her secrets; the love of Mr. Hartright for his beloved is swoon worthy, and the issues such as class struggles and marriage woes, are universal. Part romance, with a dollop of mystery, and a dash of crime, and a generous portion of entertainment, this classic was one that has never been out of print since it's first publication date, and once read, the reason behind its success is evident.
Review by vrchristensen
16/06/2015
This is truly a haunting story of doppelgangers, deception, heartbreak and cruelty. And yet there is something very gentle about it as well. Collins spares nothing of his wit and satirical weaponry on the deserving, but always treats his heroes and heroines with the utmost respect. It's a complex story, and in interesting insight into marriage laws and relationships in the (middle of) the Victorian era. It's a tragedy, but with a happy ending. Wilkie Collins is truly one of my favourite authors.