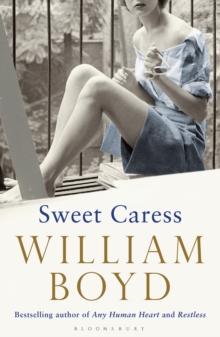 Sweet Caress : The Many Lives of Amory Clay
Hardback
Description
THE TOP TEN SUNDAY TIMES BESTSELLER Amory's first memory is of her father doing a handstand. She has memories of him returning on leave during the First World War. But his absences, both actual and emotional, are what she chiefly remembers. It is her photographer uncle Greville who supplies the emotional bond she needs, and, when he gives her a camera and some rudimentary lessons in photography, unleashes a passion that will irrevocably shape her future.
A spell at boarding school ends abruptly and Amory begins an apprenticeship with Greville in London, living in his flat in Kensington, earning two pounds a week photographing socialites for fashionable magazines.
But Amory is hungry for more and her search for life, love and artistic expression will take her to the demi monde of Berlin of the late 1920s, to New York of the 1930s, to the Blackshirt riots in London and to France in the Second World War where she becomes one of the first women war photographers. Her desire for experience will lead Amory to further wars, to lovers, husbands and children as she continues to pursue her dreams and battle her demons. In this enthralling story of a life fully lived, William Boyd has created a sweeping panorama of some of the most defining moments of modern history, told through the camera lens of one unforgettable woman, Amory Clay.
It is his greatest achievement to date.
Information
Format: Hardback
Pages: 464 pages
Publisher: Bloomsbury Publishing PLC
Publication Date: 27/08/2015
ISBN: 9781408867976
Free Home Delivery
on all orders
Pick up orders
from local bookshops
Reviews
Showing 1 - 2 of 2 reviews.
Review by YossarianXeno
27/01/2016
If written by any other writer this would simply count as a well written, engaging novel. But for William Boyd it feels a little like he's produced a cover version of the New Confessions but failed to include the magic ingredients. Like the New Confessions (and Any Human Heart) the novel looks back over the lead character's life (a woman this time) through the 20th Century. There are the familiar Boyd themes of a disjointed childhood, and strong attractions but ultimately unsuccessful relationships. There are regular Boyd locations, 1920s Berlin and 1930s America. But somehow this doesn't draw you in like the earlier novels.It's good, but not great.
Review by Eyejaybee
09/10/2015
This was the hundredth book I have read this year, and probably the finest book I have read so far this century. All too often recently I have looked forward to the latest book from a favourite author, only to be woefully disappointed when it finally arrives. I even felt a little trepidation after buying this book last week, though I really should have known better. William Boyd delivers in spades, as he always does.Over the years Boyd has shown great skill at creating fictional memoirs that read as convincingly as the genuine article. His two previous novels in that mode, the awesome 'Any Human Heart' and the sadly underrated 'The New Confessions', chronicled the lives of a failed novelist and a First World War veteran turned film director. Both were so finely crafted, featuring utterly plausible encounters with finely drawn historical figures, that it was difficult at times not to believe that they were genuine memoirs. Indeed, 'Any Human Heart' even included numerous footnotes (though never with the clumsiness that so often characterises Paul Auster's novels) and an index. I could all too readily believe in Logan Mounstuart, and I would have enjoyed reading his collected works.In 'Sweet Caress' Boyd has eclipsed even these two masterpieces. Amory Clay is born in 1908, the eldest daughter of Beverley Clay, another failed novelist (though without Logan Mountstuart's brio, self delusion or zest for life), and brought up in moderate affluence in a large house in Sussex. From an early age, guided by her uncle, she showed an interest, bordering on a passion, in photography. Photographs from different stages of her life adorn the book, further adding to the autobiographical verisimilitude. Her father has a difficult war, returning with what would nowadays readily be diagnosed as post traumatic stress disorder; back then he was initially just left to get on with life as best he could.Boyd delivers the novel in what has almost become his trademark, with lengthy stretches of narrative covering the actions of the past, interspersed with reflections by the character as they look back on the various chapters of their life. This worked well in both 'Any Human Heart' and 'Restless', his slick redefinition of the spy novel, and suits this work admirably. Amory Clay faces a vast array of travails as she struggles to establish herself as a photographer, struggling to escape beyond the cloying world of popular magazines and photographs of socialites attending balls. The clarity with which she recalls her early difficulties are reminiscent of Eva's story in 'Restless'. We are taken to Berlin during the Weimar period, followed by a return to Britain during the late 19309s when she encounters the abortive rise of Oswald Mosley's Union of British Fascists, before she moves to America where she is still living when the Second World War breaks out. Partially to resolve an increasingly difficult personal life she returns to Europe to run a press agency for American magazines before succeeding in becoming accredited as a war photographer.Boyd writes beautifully. There is nothing flashy about his prose but he sucks the reader in, and before you know it you have got through sixty pages and don't want to put the book down even for a moment. The plausibility of all of his characters is flawless, and the story never loosens its grip on the reader. I found myself facing the eternal quandary set by a great book - my desperation to find out how the story ends was matched only by my disappointment at having now finished it, though I am pretty confident that I will be reading it again very soon.The final few pages, one of Amory Clay's reflective passages written in her cottage on a Scottish island, are among the most powerful I have ever read: chilling, tragic and painful, yet also tinged with hope. They reminded me of the last pages of Emily St John Mandel's 'Last Night in Montreal', though even more moving.