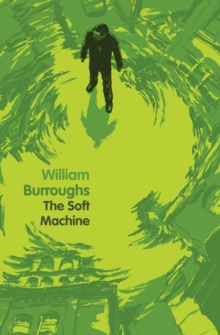 Description
The first novel in William Burroughs' anarchic 'Cut-Up Trilogy'.
A world populated by hanged soldiers, North African street urchins, addicted narcotics agents, Spanish rent boys, evil doctors, corrupt judges and monsters from the mythology of history or the laboratories of science - Burroughs was truly the Hieronymus Bosch of the twentieth century.
In this surreal, savage and brilliantly funny novel, his famous 'cut-up' technique, the slicing and random folding in of words, transforms the narrative into an extraordinary, unequalled new form of prose poetry, taking us deeper into the dark recesses of Burroughs' imagination.
Information
Format: Paperback
Pages: 144 pages
Publisher: HarperCollins Publishers
Publication Date: 29/04/2010
ISBN: 9780007341917
Free Home Delivery
on all orders
Pick up orders
from local bookshops
Reviews
Showing 1 - 1 of 1 reviews.
Review by poetontheone
16/06/2015
Burroughs' first complete utilization of the cut up technique is seen here, and thus it is no surprise that form dictates content. Language folds in on itself perpetually, corroding narrative threads and creating a ritual repetition that implies two phenomena. First, this is what it is like to be on junk, immersed in the doldrums of perennial wanting where existence is cyclical in wait for the next fix. Second, the text is eating itself as junk eats the junkie, and is a symbol of human relationships as essentially parasitic. The text devours and is devoured as the body devours and is devoured. Burroughs' "characters" here (which themselves dissolve into something short of insignificance, into cipher) are vehicles of want who deplete their others through mindless and hurried fucking. If not that, that they are literal insects or corrupt agents or authorities. Everyone is out for fruitless gain. The motif of the hanged man cumming and references to Mandrake recall the homunculus, but if these final spasms breed anything it is only another marginalized body, a queer, a junkie, displaced in a malevolent universe that collapses in on itself.