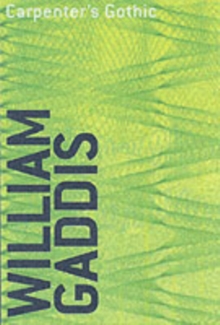 Carpenter's Gothic
Paperback
Description
'Everything in this compelling and brilliant vision of America ...is charged with the force of a volcanic eruption.' Walter AbishThis romping comic narrative features the occupants of 'Carpenters Gothic', and their tempestuous marriage.Liz the heiress and herVietnam vet husband Paul , who rent from the mysterious yet omnipresent MacCandless.It follows their fantastic exploits as they battle with the Reverend Ude to preserve the African mission they live on.Thisis a comic novel that descends into hilarious farce.
Information
Format: Paperback
Pages: 262 pages
Publisher: Atlantic Books
Publication Date: 27/11/2003
ISBN: 9781843541677
Free Home Delivery
on all orders
Pick up orders
from local bookshops
Reviews
Showing 1 - 4 of 4 reviews.
Review by librarianbryan
16/06/2015
High satire from this American master. Its briefer length makes it a better introduction that the longish JR. The Recognitions remains the jewel of Gaddis' oeuvre.
Review by HadriantheBlind
16/06/2015
One of Gaddis' shorter books, but one that still requires a Herculean effort to read. A gigantic sprawl of dialogue.
Review by stillatim
16/06/2015
I must warn you, I have no qualms calling Gaddis the greatest novelist of the later twentieth century, and perhaps ever. I am an unrepentant fanboy. So my star rating is completely untrustworthy. Anyway, on to my thoughts. <br/><br/>This is the shortest and best titled of Gaddis' real books (I don't count Agape Agape). Carpenter's Gothic, one of the characters tells us, is a style of American architecture. The builders tried to imitate European neo-gothic, but did so from the outside in: the houses have turrets and towers, they're pointlessly tall but rarely spread out into all that land that American houses have to spread out into. The inside is a hodgepodge, because what the architects cared about was how it looked from the outside. So the rooms are divided in irrational, silly and unhelpful ways; there are false walls and weird shapes. Examples of neo-gothic include Westminster in London and the Cologne Cathedral. It's often considered to be an adjunct of political or theological conservatism, vs the liberalism of neo-classical architecture. You can't actually squash such buildings down into a house shape, and nor should you. <br/><br/>Gothic is a literary mode that Austen mocked wonderfully well in Northanger Abbey, and that lives on in various forms today (i.e., all that vampire and werewolf fiction). The original gothic novels often take place in a neo-gothic country manor, and involve (doomed) romance and fantastic or inexplicable events, with improbable, convoluted plots and twists. <br/><br/>You see where this is headed: CG takes place in a 'carptenter's gothic' (modern American analogue of the) country manor. It involves romance, an improbable, convoluted plot, and a mysterious concluding twist. But whereas gothic authors will either leave the actual cause of the mysteries unclear (think: James' 'Turn of the Screw'), or explained them as simple natural phenomena, Gaddis explains the mysteries by way of American overseas neo-colonialism and general masculine stupidity. Using old literary forms in new ways to criticize real world things gets me very hot under the collar (compare also: McCarthy's use of epic tropes in 'Blood Meridian' and Robinson's use of spiritual autobiography in 'Gilead'). <br/><br/>But I get positively *steamy* when a novel includes very little descriptive prose, a lot of dialogue, rants about the state (i.e., bad) of the world, and a high degree of irony about its own heart-felt rants. Check, check, check. <br/><br/>Liz sits in the middle of an awkward love quadrangle, between her husband Paul, drunken self-righteous mansplainer and general symbol for American litigiousness, fiscal religiosity, rapaciousness, and (borderline) rape; her landlord McCandless, a hopeless self-righteous liberal who owns the carptenter's gothic and knows everything but does nothing because everything's f*cked anyway, and whose rants about other people's guilt make very clear that he's as guilty as the rest of us if not more so; and her brother Billy, a grasping self-righteous post-hippy who is *totally* not to blame for his own failures. They all insist on being very, very different from each other but the differences are minimal to non-existent: they hector Liz at every opportunity, about different things, sure, but that makes no difference to her as she lies around more or less incapable of leaving her house except to see a doctor. <br/><br/>Ladies and Gentlemen, I give you the United States of America, designed to look like a grand, albeit conservative Olde Europe, but from the inside nothing but a mess, inhabited by the sick/dying, and three kinds of self-righteous horror. <br/><br/>McCandless screams with rage that "the greatest source of anger is fear, the greatest source of hatred is anger and the greatest source of all of it is this mindless revealed religion anywhere you look", and, from within his locked room in the carpenter's gothic mansion, mocks "their deep religious convictions and that's what they are, they're convicts locked up in some shabby fiction doing life without parole". He's right that religious violence is revolting, right that the endemic conflicts of Africa are down to "money from the West and guns from the East," but won't do anything about it. As Liz finally tells him, "you're the one who wants Apocalypse... you're the one who can't wait! The brimstone and fire and your Rift like the day it really happened because they, because you despise their, not their stupidity, no, their hopes because you haven't any, because you haven't any left." Liberal America. <br/><br/>Paul is more or less incoherent and concerned only with greed and the conspiratorial liberal god-damned media who have all the power... with the powerless, useless McCandless as their representative. American Conservatives. <br/><br/>Billy hates his father, tries to solve the problems in African and (spoiler) dies in a plane crash. American Radicals. <br/><br/>So in short, Gaddis is smarter than us, writes better than almost anyone alive (if you even kind of like DFW, read Gaddis, who got in earlier, did it better, and knows much more about the world), and is funnier than almost everyone. Of his three first books, this is the worst. Just imagine that: this is just okay by Gaddis's standards.
Review by le.vert.galant
16/06/2015
Four stars only because it falls a notch below the others novels I've read by William Gaddis. For someone new to his work, this may be the best first read as it's short and relatively easy to follow.