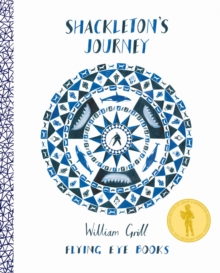 Shackleton's Journey
Hardback
Information
Format: Hardback
Pages: 80 pages, Full colour throughout
Publisher: Flying Eye Books
Publication Date: 02/01/2014
Category: Geography
ISBN: 9781909263109
Free Home Delivery
on all orders
Pick up orders
from local bookshops
Reviews
Showing 1 - 4 of 4 reviews.
Review by pussreboots
10/11/2015
For the 2014 CYBILs, I read two different graphic novel accounts of Shackleton's last expedition to Antarctica. Separately, they both seemed to miss key points. Together, though, the presented a more complete picture. I wish they were actually combined as an anthology, rather than being separate competing points of view.Shackleton's Journey by William Grill is presented as a folio sized picture book but was still included in the graphic novel section for the CYBILs. It's 80 pages, so roughly twice the length of a normal picture book, but still on the short side for a graphic novel.Shackleton's expedition included a lot of men and a lot of dogs. Both books include mini caricatures of each man and dog. For an oversized book, I expected better, more detailed portraits. Instead, we get thumbnail sketches that are even less detailed than those in Shackleton: Antarctic Odyssey by Nick Bertozzi. What the book does better, though, is explaining Shackleton's goals, and his strengths as a leader. While the Bertozzi book goes into loving detail about the ship and what was actually done on the journey and during the time they were stuck on the ice, he doesn't try to get into Shackleton's head. Rather, he ends up painting Shackleton as selfish and incompetent.Some key points that I only got after reading Grill's account is what the goal of exhibition was (crossing Antarctica) and how many people survived (all of them). But I wish the available space of the pages had been put to better use. The illustrations are sadly sparse.
Review by ElizaJane
16/06/2015
I've read a lot about the explorers and am no stranger to Shackleton's journeys. This book does a very fine, and entertaining, job of detailing Shackleton's attempt to cross Antarctica by land. This is an oversized picture book suitable for upper-elementary and up. The art is absolutely amazing, using a limited palette of blacks, blues and browns Grill appears to have used pastels or chalks and his use of white space to invoke the emptiness and harshness of the desolate continent is breathtaking. The story is very detailed (including the names of all the crew and 69 dogs) and told in short blocks of text interspersed with the illustrations. The narrative contains quotes from the crew themselves and the narrative voice is entertaining to read. An impressive book, for an introduction to the topic.
Review by paula-childrenslib
27/08/2015
Young, up-and-coming illustrator William Grill weaves a detailed visual narrative of Shackleton's journey to Antarctica.Grill's beautiful use of colored pencils and vibrant hues effortlessly evokes the adventure and excitement that surrounded the expedition. His impeccably researched drawings, rich with detail, fastidiously reproduce the minutiae of the expedition.Children will love examining the diagrams of the peculiar provisions and the individual drawings of each sled dog and packhorse. This book takes the academic and historical information behind the expedition and reinterprets it for a young audience.Delicate drawings in vibrant colors bring the story of Shackleton's journey to life.
Review by Sullywriter
16/06/2015
A large, beautifully designed, and wonderfully illustrated chronicle of Sir Ernest Shackleton's ill-fated expedition to Antarctica. Grill's colored pencil illustrations are vibrant and finely detailed. There is a glossary but other back matter is unfortunately lacking. A great introduction to this remarkable true story especially for primary school-age readers.