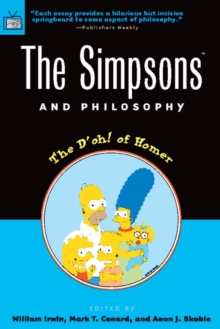 The "Simpsons" and Philosophy : The D'oh! of Homer
Paperback
Description
A light-hearted introduction to philosophy through the antics of the Simpsons, television's animated family.
These essays on the silly, absurd, hyper-ironic and strangely philosophical world that is Springfield - the town without a state - explore philosophy and the major philosophers of Western thought: is Bart a pragmatist?
Why is Mr Burn's quest for happiness continually frustrated?
The contributors discuss the thought of key philosophers including Aristotle, Marx, Camus, Sartre, Heidegger and Kant, and tackle issues like irony and the meaning of life, American anti-intellectualism, and existential rebellion.
The volume also includes an episode guide and a chronology of philosophers which gives the names and dates of the major thinkers in the history of philosophy, accompanied by a representative quote from each.
Information
Format: Paperback
Pages: 304 pages
Publisher: Open Court Publishing Co ,U.S.
Publication Date: 28/02/2001
Category: Television
ISBN: 9780812694338
Free Home Delivery
on all orders
Pick up orders
from local bookshops
Reviews
Showing 1 - 4 of 4 reviews.
Review by HvyMetalMG
16/06/2015
The Simpsons gets me suckered into buying another book exploring all the meaning and philosophy behind my favorite show. This is probably the best of these types of books.
Review by neiljohnford
16/06/2015
I was a bit worried that reading this book would ruin the Simpsons for me but I'm happy to report that I still laugh out loud every time I watch it. The essays were all vastly different - for example some tended to explain characturistics of the Simpsons using different philosophers and some tended to try to explain certain philosophies using the Simpsons as examples. Some worked for me and some didn't. Some of the authors missed the point that the Simpsons is written to be funny - for example in "Thus Spake Bart" (a Neitzscean analysis of Barts characture) the author misses the irony in a dialog between Bart and Lisa and attributes Bart's response to the loss of his identity as a rebel (personally I think it's just a gag - just a we all sometimes say things that we don;t really mean for the sake of a cheap laugh. My favourite chapter was the one on semiotics towards the end which explained the difference between the written word (in which the signifier is inherantly abstracted from the signified) and media like photography or moving images in which the signifier seems (on the surface) to be inherant to what is being signified but (for example in advertising) the signifier is more than just a picture of an object, it is a production and the objects are made to look a certain way. I guess that's why visual media is so important to advertising and why western culture is increasingly visual. Intersting (very interesting) :-)
Review by PastorBob
16/06/2015
Oh don't be pretentious . . . it's fun! It's also all good. The ability to relate thought and thinking not only to the issues of today, but to the contemporary inculturated expressions of that thought is a necessary discipline if ideas are to be recognized and used well. This book undertakes that task well. Enjoy it - and admit it - you just wish you'd thought of it first!
Review by pussreboots
16/06/2015
I really enjoyed these series of essays on philosophy with the Simpsons as the starting point. My favorite essay has to be the one comparing Nietze to Bart. I was actually laughing while reading the essay!