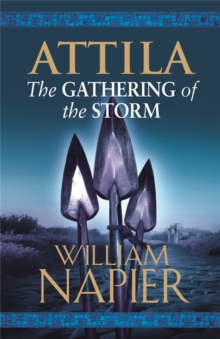 Attila : The Gathering of the Storm
Paperback
Description
The gripping and bloody story of one of history's most infamous and enigmatic villains - part II in the ATTILA trilogy The 5th century has dawned in blood. The young boy exiled thirty years ago has grown into a man.
One stormy autumn day, a mysterious rider is seen out on the plains.
Attila has returned, his sentence served, to claim his kingdom.
He will ride out at the head of no more than one hundred chosen men, driven by the ambition to unite all the feuding Hunnish and Scythian tribes under single banner and a single king.
An impossible ambition. For Attila and his chosen men must triumph over blizzards and deserts, bandit kings and hidden mountain kingdoms, and furious battle with the terrible Kutrigur Huns.
But all will flock to his banner, answer his call. His power is mysterious and inexpressible, his strength of character and iron will cannot be opposed. And far to the west lies a promised empire both fabulously wealthy and tottering to its knees.
An empire full of gold and silver and dark-eyed slavegirls - the Empire of Rome. And this strange horde from out of the Scythian wilderness will bring a night to fall on that Empire like no other'
Information
Format: Paperback
Pages: 336 pages, Illustrations, 1 map
Publisher: Orion Publishing Co
Publication Date: 03/12/2007
ISBN: 9780752881423
Free Home Delivery
on all orders
Pick up orders
from local bookshops