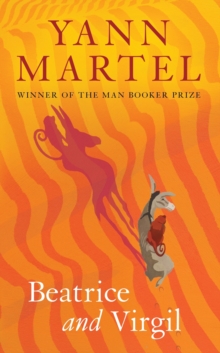 Beatrice and Virgil
Hardback
Description
Fate takes many forms ...When Henry receives a letter from an elderly taxidermist, it poses a puzzle that he cannot resist.
As he is pulling into the world of this strange and calculating man, Henry becomes increasingly involved with the lives of a donkey and a howler monkey - named Beatrice and Virgil - and the epic journey they undertake together.
With all the spirit and orginality that made Life of Pi so treasured, this brilliant new novel takes the reader on a haunting odyssey.
On the way, Martel asks profound questions about life and art, truth and deception, responsibility and complicity.
Information
Format: Hardback
Pages: 224 pages
Publisher: Canongate Books Ltd
Publication Date: 03/06/2010
ISBN: 9781847677655
Free Home Delivery
on all orders
Pick up orders
from local bookshops
Reviews
Showing 1 - 3 of 3 reviews.
Review by funkyfairy22
16/06/2015
This is a lovely book. It's interesting, well written and has a good feeling to it. It's surprising and unexpected in places too which adds to it's impact and appeal. Totally different to what I expected, I was glad to reach the end and know what happened but also disappointed it was over.I struggled with Life of Pi and in the end gave up on it. This book has a similar style but I much preferred it and found it easier to read. Having enjoyed this I may try Life of Pi again. Highly recommended.
Review by brokenangelkisses
16/06/2015
This is Martel's long awaited third full novel and the promotion of it largely rests upon the success of his second novel, the Man Booker Prize winning 'Life of Pi'. In fact, the cover is deliberately reminiscent of the prize winning novel in terms of presentation and content. I find it interesting therefore that most reviewers who have read 'Life of Pi' (including myself) have been left frustrated or cold by Martel's new offering, while new readers are generally more impressed. Marketing the new book through reference to the old (the back cover consists exclusively of critical praise for 'Life of Pi') no doubt seemed logical to the publishers, but there is a fundamental flaw: this is a very different text and, in direct comparison, (which is encouraged by the presentation and marketing,) it seems rather flawed.Monkey businessAfter a painful rejection by his publishers, a previously successful writer moves country and suffers with writer's block. Among other pursuits, he becomes involved with a rather odd taxidermist who wants his help writing a play. The play is about Beatrice and Virgil – a donkey and a monkey – who suffer in (what is initially) a very Beckettian manner. Very little happens until there is a bout of frenetic activity near the end of the book. The blurb focuses on themes rather than action and the novel does likewise. There is little 'plot' and much discussion of art – and taxidermy!Martel, meet MartelThe main character, Henry, has achieved great success with his second book, which is never named but was 'about animals'. It has won prizes, been almost universally read and a film is being planned. After the promotional activity is wound down, Henry begins to write his next book. Martel – I mean, Henry – spends five years writing the follow up only to have it rejected by his publishers. He wants to write about the Holocaust in a new way that does not seek to trivialise but to 'normalise' it. He also wants to publish the book in an unusual way: as a flip book, comprising a fictional text and an essay.Sounding familiar? A little research reveals that so far, this is very similar to what happened to Martel, actual author of 'Beatrice and Virgil'. This has led some readers and critics to shiver with irritation at the writer's self indulgence. Certainly, I found that it distracted me from the 'story' that was being told as the parallels were very obvious. This possible irritation reduces as the story continues and fiction diverges from fact, but it re-emerged at the end of the book, which I personally found slightly annoying. If Martel wants to write autobiographically, that's fine, but I think it makes the whole text feel too 'layered' and it distracted me from the 'story'.Theme hammerI keep placing 'story' within inverted commas because this is a book which really isn't overly concerned with story. Instead, Martel wants to discuss art and representation. Henry is casually introduced and the relevant events are summarised in the first few pages; his wife is nothing more than a plot device and can be persuaded to move to an unnamed country more swiftly than most wives can be persuaded to put the kettle on. Even their pets (Erasmus and Mendelssohn) seem to be purchased purely for symbolic purposes and are irrelevant to the narrative for most of this rather short book. This, I felt, was the real source of my disquiet: despite his stated objective of encouraging discussion, Martel is incapable of letting his reader think. Everything is symbolic and meaningful, but that meaning is often hammered home. They move to a country that Martel refuses to name, but just in case the reader didn't realise that this was to suggest the universal nature of their subsequent experiences, Martel elaborates on his theme:'They settled in one of those great cities of the world that is a world unto itself, a storied metropolis where all kinds of people find themselves and lose themselves. Perhaps it was New York. Perhaps it was Paris. Perhaps it was Berlin.'This is a typical example of Martel's style. Some readers have suggested that this is weak or lazy or repetitive writing which is just designed to fill up the pages and please publishers waiting for the book (which barely stretches to 197 pages). I disagree and feel it is a stylistic choice, but it's one I dislike as I feel like I'm being hit over the head with a hammer labelled 'THEME' in bold capitals. I can understand that he doesn't want the reader to miss what he sees as important, and I wouldn't have made the connection to Dante's 'Divine Comedy' without Martel's character commenting on the names of the animals. However, simply highlighting connections to other texts doesn't help a reader who (like myself) is unfamiliar with the source material. Perhaps this is why Martel copies out large sections of Flaubert's short story, which he clearly considers to be thematically relevant.Beckett with a talking donkeyEarly on Martel contextualises his book by reflecting on the success of novels which have been written about the holocaust. He clearly sees himself as an important part of a tradition.More interestingly, for me, were the bits and pieces of the play sprinkled throughout the text. Written by the taxidermist, the play is a tribute to / blatant rip-off of Samuel Beckett:Beatrice: What should we do? Virgil: Is there anything we can do? Beatrice (looking up the road): We could move on. Virgil: We've done that before and it didn't get us anywhere. Beatrice: Maybe this time it will. Virgil: Maybe. (They do not move.)I found these sections by far the most appealing of the play. Early on there is a wonderfully thorough description of a pear that manages to express the beauty of the object while sustaining a gently comic tone and evoking a sense of pathos. I feel that I would probably have preferred to read the whole play than Martel's final text. Apparently, the play does exist so I hope that Martel publishes that – perhaps alongside the essay he has also written.Winnie the Pooh meets the HolocaustHenry's wife dismisses his literary efforts with the comment above and some critics have made similar points about Martel's work. Personally, I don't have a problem with Martel's use of animals. I do not feel that it trivialises the subject matter and in a book so obviously concerned with literature I was not concerned with the realism of their presentation. Equally, I was not 'moved to tears' by them as some readers have suggested. I think they were so obviously fictitious that I was unable to empathise with them.In fact, there were no characters with whom a reader might really connect. Henry's motives are insufficiently strong to justify his actions, Sarah is barely present in the narrative, the animals are wrapped in layers of meaning and the taxidermist seems barely human. I was left feeling that for all the darkness of its subject matter and warmth of opinion the book has excited it was a very 'cold' read.Another Man Booker winner?Ultimately, there is a very self-aware and reflective text. I hesitate to call it a 'story' as it doesn't really hold together as one. There is no clear centre and I didn't find the final section ('Games for Gustav') sufficient to redeem the book as a whole. In fact, I found it slightly facile. I felt that Martel was too obviously didactic in tone in this book and that the comparisons invited by the invocation of his previous novel are unhelpful. To me, 'Life of Pi' felt like an engaging story that happened to raise a couple of interesting questions about art and truth at the end. 'Beatrice and Virgil' felt more like a mish mash of symbols and themes. I missed the 'story'. I felt that the ending was unsatisfying and I wish the narrative had been divided into chapters as, while it is short enough to read in one sitting, I did not find it compelling and would have welcomed clear stopping points. However, I would read the play if it was produced in full.
Review by Mikalina
16/06/2015
Yann Martel`s use of images is deeply embedded in mythology, i.e. he is an author who seems to understand the link between words and the creatures behind them. A monkey on an ass´back is an image that cast long shadows not only in greco-christian culture, it is a poignant image whatever reference culture the reader has. The questions he wants us to answer in this book is: Who is the taxidermist if we (the readers) leave the ass as an ass and the monkey as a monkey? And what become of the world (hint; the taxidermist´s hidden past) if interpretation (leadership in the world) is left with taxidermists? Yann Martel work is original, therefore it is timeless.He certainly has managed to lift the problem of Holocost, of evil, to a philosophical level. Only by understanding the banality of evil, might we prevent a new Holocost in the future.