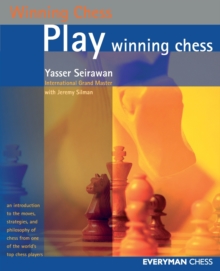 Play Winning Chess
Paperback
Description
"When most people learn to play chess, they usually memorise the movements of the pieces and then spend years pummelling away at each other with little rhyme and even less reason.
Though I will show you how each piece leaps around, what it likes to do on holidays, the real purpose of this book is to teach you to understand the four major principles of my Seirawan method: force, time, space and pawn structure.
Each is easy to understand and each is a weapon that will enable you to defeat most anyone you challenge to a game", Yasser Seirawan. Play Winning Chess is an enthusiastic introduction to chess that will transform you into a veritable gladiator of the chessboard.
Seirawan begins by explaining piece movement, chess notation, the rules of play and basic tactics.
His examples, question-and-answer sections, psychological hints, and lively sample games help you learn strategies and play aggressively while having fun.
Discovering how to engage in clever attacks and subtle defenses will take you beyond the thrill of competition into the realm of creative art.
Play Winning Chess is exuberant and conversational, enlivened by personal anecdotes and fascinating historical details.
Information
Format: Paperback
Pages: 224 pages, illustrations
Publisher: Everyman Chess
Publication Date: 03/03/2003
Category: Chess
ISBN: 9781857443318
Free Home Delivery
on all orders
Pick up orders
from local bookshops
Reviews
Showing 1 - 2 of 2 reviews.
Review by villy83
16/06/2015
In the first book of his Winning Chess series, Yasser Seirawan teaches you the fundamentals of chess according to his own method. Apart from introducing the reader to the amazing world of chess, with many facts and funny stories, the author divides his book into 4 different pillars (Time, Force, Space and Pawn Structure) in order to understand the basics of this sport.Despite my knowledge of the game, it was a very interesting book. Don't put it off considering that you know everything about the pieces and the board, as you could have some gaps (e.g. En Passant: the classical "what the f*** are you doing with my pawn?" that many begginers have pronounced). Still, the stuff that everyone should know only spans a single chapter, so don't expect the basics (the 4 pillars) to be common knowledge.I knew about the author thanks to an old PC game (Chessmaster 3000), in which there was a tutorial with his method. I liked the structure it suggested to study chess and its main strategies and tactics, so I decided to give a try on Seirawan's books. It was worth it; it is chess as plain as it can be explained, and with the hilarious humour of a renowned international master (chess players are not dull boring people!).
Review by etimme
16/06/2015
Good introduction to the game, but meant for a complete novice. I enjoyed how Seirawan mixed instruction with history to give the reader an appreciation for both how the game evolved and the personalities that helped to shape modern chess. His commented games and examples have enough intermediary diagrams of positions that about half can be followed by a new player without needing a chess board. This makes for a good compromise between book length and ease of use.
Also in the Winning Chess Series series