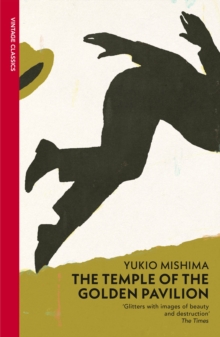 The Temple Of The Golden Pavilion
Paperback
Description
Because of the boyhood trauma of seeing his mother make love to another man in the presence of his dying father, Mizoguchi becomes a hopeless stutterer.
Taunted by his schoolmates, he feels utterly alone untill he becomes an acolyte at a famous temple in Kyoto, where he develops an all-consuming obsession with the temple's beauty.
This powerful story of dedication and sacrifice brings together Mishima's preoccupations with violence, desire, religion and national history to dazzling effect.
Information
Format: Paperback
Pages: 256 pages
Publisher: Vintage Publishing
Publication Date: 01/05/2001
ISBN: 9780099285670
Other Formats
Hardback from £9.15
EPUB from £3.99
from £17.00
Free Home Delivery
on all orders
Pick up orders
from local bookshops
Reviews
Showing 1 - 3 of 3 reviews.
Review by dlovins
16/06/2015
Based on the true story of a young Zen Buddhist monk who torched the Kinkakuji (Golden Temple) in 1950, the protoganist Mizoguchi is a tortured soul who struggles through his formative years with a case of severe stuttering and the conviction that he is too physically ugly to be loved. It's a beautifully written book, if also sometimes stilted in its many florid descriptions (though this may be due to the translation). It's an interesting exercise of trying to get inside a deranged person's head. Whether I come away with a real sense of Mizoguchi's soul is another matter. Glad I read the book, though, and it's interesting to read about life in post-WWII Kyoto.
Review by soylentgreen23
16/06/2015
'The Sailor Who Fell From Grace With The Sea' is a remarkable novel that examines a child's struggle to accept the world and his place in it. 'The Temple of The Golden Pavilion' is a similar examination, this time looking at a slightly older boy, who is studying to become a Buddhist priest.In this novel, the main character is a young man who suffers from an unconquerable stutter, who finds himself unable to properly interact with the world around him. His every conception of the world is tainted by this stutter, and by his highest ideal of beauty, the Golden Temple in Kyoto, where he studies and lives.As with 'Sailor', the boy is overcome with hatred towards his mother; here, it is for the act of adultery that she perpetrates with his uncle, whilst he is sleeping in the same room, and in the presence of his ill father. This feeling of hatred and anger is made tangible all through the book, right to its bitter conclusion.
Review by Michael.Rimmer
16/06/2015
I enjoyed this book for the descriptive writing and the evocation of place that the author created. I particularly liked the night scene where the narrator, Mizoguchi, follows Uiko. The passage where he walks to the Sea of Japan from Maizuru was also very well done.<br/><br/>However... I did not really understand Mizoguchi's motivation in just about anything that he did and found him a completely unsympathetic character. The resolution of the final crisis has left me unmoved and glad that I've finished so that I can move on to something else. Which isn't to say that this is a bad book, just one that I didn't entirely connect with.<br/><br/>As an aside, the blurb on this edition is not correct as Mizoguchi's stammer was congenital and had already affected him before he witnessed his mother with another man.