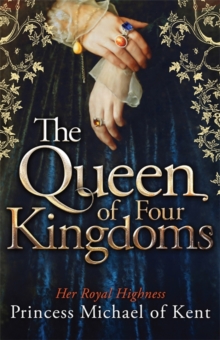 The Queen Of Four Kingdoms
Hardback
Description
At the age of nineteen, Yolande, daughter of the King of Aragon, is sent away from her family, her friends, and everything she knows, to marry the young Duke Louis II of Anjou, first cousin of the King of France. Their marriage has been arranged to bring an end to a generation of bitter conflict between Aragon and Anjou for possession of the kingdom of Naples and Sicily, an inheritance they both claim. Despite waiting nine years for her fiance to return to France from Naples, to Yolande's surprise their union becomes not only a great love story, but also sets in motion events which will change the course of history.As Louis spends more time and money fighting for his distant kingdom, Yolande is left alone with their five children and, as her husband's regent, to govern their vast inheritance. With her wealth, her subtle intelligence, charm and the clever use of her spies, she becomes the saviour not only her own territories, but also of France. Her Royal Highness Princess Michael of Kent unveils this seldom told story, enriched by her insider's perspective of court life.This is an epic, sweeping novel which vividly recounts the true story of England's invasion of France in the 15th century, a dramatic and enthralling period in the history of both countries, witnessed by the captivating and complex heroine, Yolande, known as The Queen of Four Kingdoms.
Information
Format: Hardback
Pages: 384 pages
Publisher: Little, Brown Book Group
Publication Date: 17/10/2013
Category: Historical fiction
ISBN: 9781472108456
Free Home Delivery
on all orders
Pick up orders
from local bookshops
Reviews
Showing 1 - 3 of 3 reviews.
Review by BittyCornwell
16/06/2015
I was curious about the main character of this book, and was excited to read it and learn more about Yolande and her life. I liked that the main character was a strong female that intelligently dealt with the events of her life and influenced history. This book made me curious to learn more about Yolande. I found the part of the story with Joan of Arc fascinating. I really liked reading a different view of her, and seeing how she fit into other people's stories.Although I found the story interesting, the writing left a little to be desired. There were a lot of tense shifts that could be a little confusing sometimes. Also, I found parts of the story repetitive. This was a shame because there were a lot of events covered in this book, so at times it felt rushed. I think this was the author's first time writing historical fiction, and was not bad as a first novel. She mentions in the Author's Note that there will be a sequel, and the end of this book set that up well. I am curious enough by the ending of the book to try it when it comes out. If you are interested in this time period, or historical fiction about royal women I would recommend giving this book a try.
Review by dstawarz
16/06/2015
this was a good book to read.
Review by Dream24
27/01/2016
I received an ARC through Library Things.<br/>---<br/>I absolutely adore historical romantic fictions. However, this book turned out to be a slight letdown as it wasn't what I had expected.<br/><br/>While Yolande lead an extremely fascinating life, as did numerous leading female rulers around that time period, she barely stood out until the whole Joan of Arc period, which is much later in the book. It was rather fascinating to read about Joan of Arc, told through a different perspective.<br/><br/>To be honest, nearly all the characters in the book were so one dimensional and they completely fell flat. They were forgettable and boring, which they completely aren't because they are fascinating, living people from history who played a significant role in history and in the royal courts. Like the Battle of Agincourt, the rise of Henry V, the fall of Louis D'Orleans, the horrendous end of the Duke of Burgundy, and so much more. This is an extremely fascinating period, pity this version of that period fell a little flat. <br/><br/>I didn't like how inconsistent some of the writing was. There were a few sections where there was nearly duplicate writing within a few paragraphs of each other, but with a few more details added or changed. And it kept switching between calling Yolande "Dowager Queen" and the "Old Queen of Sicily". Also I don't like how some random English word was thrown in, words that aren't commonly used, it was like the words were there to make the book seem smarter than it really is. <br/><br/>While some parts of the book were extremely descriptive (like the design of the royal banners, etc), some of it was extremely repetitive! I grew tired of hearing the description of the crown of Sicily and what Yolande did with it over and over again. Enough! We know she had a crown, why didn't we hear about the crown of France or crown of England?
Also by of Kent HRH Princess Michael