Comedy on DVD & Blu-ray
If you like a laugh you've come to the right place! Here you'll find some of the funniest movies and TV shows, both past and present, along with the best in stand-up comedy. From cartoon comedy, to those addictive TV box sets. Look no further for a great selection of comedy on DVD.
Popular features in Comedy
Browse TV Comedy
Comedy on DVD & Blu-ray
Features
Popular Comedians
Recently Released Bestseller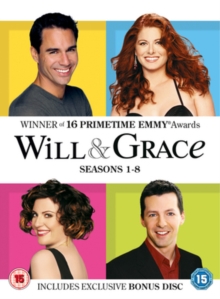 All 195 episodes from the hugely popular comedy series following the lives and loves of best friends Will Truman (Eric McCormack), a gorgeous super-cool lawyer and Grace (Debra Messing), a sassy interior decorator.
They're both looking for love and they're made for each other in every way, except for one thing - Grace is straight and Will is gay.
Their own personal affairs are complicated even...