Comedy on DVD & Blu-ray
If you like a laugh you've come to the right place! Here you'll find some of the funniest movies and TV shows, both past and present, along with the best in stand-up comedy. From cartoon comedy, to those addictive TV box sets. Look no further for a great selection of comedy on DVD.
Popular features in Comedy
Browse TV Comedy
Comedy on DVD & Blu-ray
Features
Popular Comedians
Recently Released Bestseller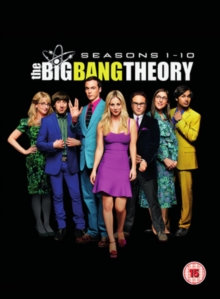 All episodes from the first ten seasons of the US sitcom.
The show revolves around two university physicists, Leonard (Johnny Galecki) and Sheldon (Jim Parsons), their beautiful, free-spirited neighbour, Penny (Kaley Cuoco-Sweeting), and their friends, Howard (Simon Helberg), Rajesh (Kunal Nayyar), Amy (Mayim Bialik) and Bernadette (Melissa Rauch).
Season 1 episodes are: 'Pilot', 'The Big Bran...