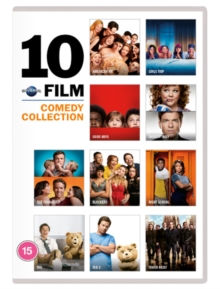 10 Film Comedy Collection
DVD
Description
Collection of ten comedies. In 'American Pie' (1999), prom night at East Green Falls High is only three weeks away and hormonal teens Jim (Jason Biggs), Oz (Chris Klein), Kevin (Thomas Ian Nicholas) and Finch (Eddie Kaye Thomas) all vow to lose their virginity before the big night.
Rumours are already spreading of Finch's sexual prowess; Oz plans to seduce the newly arrived Heather (Mena Suvari); and Kevin, well at least he has girlfriend Vicky (Tara Reid); but Jim is growing more desperate with every passing day. 'Girls Trip' (2017) follows lifelong friends Lisa (Jada Pinkett Smith), Sasha (Queen Latifah), Ryan (Regina Hall) and Dina (Tiffany Haddish) as they travel to New Orleans for the annual Essence Festival.
Hoping to escape their troubles and rekindle their friendships, the group plan to party as hard as possible on their first trip together in five years.
With reserved Lisa hoping to find a new man and Ryan trying to forget her troubled relationship, it's not long before things start to get out of hand as the girls relive the wild days of their youth.
In 'Good Boys' (2019) three young sixth graders are opened to a whole new world when they begin their quest to get ready for a party.
With a cool people's party around the corner and the boys fearing that they will be too inexperienced amongst their peers, they embark on an adventure which involves stealing beer, accidentally carrying drugs in a handbag and being chased by teenage girls.
In 'Identity Thief' (2013), an accountant sets out to track down the woman responsible for stealing his identity.
When he learns that his credit cards are being used to fund the lavish lifestyle of shopaholic Miami resident Diana (Melissa McCarthy), mild-mannered Denver accountant Sandy Patterson (Jason Bateman) starts to clear his credit rating by bringing her back to face the music.
But with the clock ticking and Diana deciding to dig her heels in, Sandy soon finds himself forced to try every trick in the book, and some that aren't, to bring his fugitive home.
Jason Bateman and Ryan Reynolds star in 'The Change-Up' (2011) as two friends who swap bodies.
Old friends Dave (Jason Bateman) and Mitch (Ryan Reynolds) have wildly differing lifestyles, lawyer Dave is a family man, married to Jamie (Leslie Mann) with three kids, while eternal bachelor Mitch is happy to try to sleep with every woman he sees.
While out on a rare drinking night together, the two friends, much the worse for wear, confess their admiration for each other's lives while standing in front of a magical fountain.
The next morning, however, the pair are shocked when they wake to discover that they have swapped bodies.
Initially intrigued by the novelty of their situation, it doesn't take long for Dave and Mitch to hanker after their old lives when events start to spiral out of control.
In 'Blockers' (2018), after accidentally coming across their daughters' pact to lose their virginity on prom night, parents Lisa (Leslie Mann), Mitchell (John Cena) and Hunter (Ike Barinholtz) set out on a daring operation to sabotage the girls' plans.
However, the three parents soon get themselves into trouble as they are forced to go to extreme lengths to protect their daughters' innocence.
In 'Night School' (2018), after losing his job at a hardware store, Teddy Walker (Kevin Hart) looks to get a job as a financial analyst at the firm where his friend works only to be told they won't hire any high school dropouts.
Forced to attend night school at his old high school in order to complete his GED exam and finally graduate, Teddy meets his match in the form of feisty class teacher Carrie (Tiffany Haddish), who won't put up with any of Teddy's attitude.
Despite Carrie's best efforts it soon becomes clear Teddy and his classmates are going to struggle to pass, so banding together, they put all their effort into coming up with a scheme to steal the test and beat the system.
Can they pull it off? In 'Ted' (2011), Mark Wahlberg stars as John, a man whose Christmas wish as a child was that his teddy bear, Ted (voice of Seth MacFarlane), would come to life and be his best friend forever.
Amazingly, John's wish comes true - but unfortunately Ted turns out to be a swearing, drug-using delinquent who reduces John's life to rubble.
In 'Ted 2' (2015), the eponymous stuffed teddy who, after marrying his girlfriend, Tami-Lynn (Jessica Barth) is trying to have a baby.
However, in order for Ted to gain custody of a child, he has to ask John (Wahlberg) to provide a sperm donation and prove in court that he is a person.
Finally, 'Tower Heist' (2011) follows the staff at a luxury Central Park apartment complex discover who discover that Wall Street billionaire Arthur Shaw (Alan Alda), who lives in the building's penthouse apartment, has embezzled their hard-earned retirement money after being entrusted to oversee their pension scheme.
Determined to get their money back, they decide to dispense with the law and take matters into their own hands.
Armed with their precise knowledge of the building, they plan a heist to steal back the funds they believe to be hidden in Shaw's super-swanky residence.
Information
Format:DVD
Region:2,4,5
Certification:(15)
EAN:5053083224417
Catalogue number:8322441
Studio:Universal Pictures
Release date:19/10/2020
Genre:Comedy
Colour:Colour