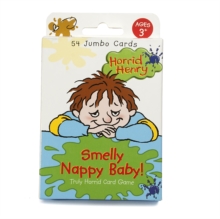 4375 Horrid Henry Card Game
General merchandize
Description
A bright and colourful and truly horrid card game featuring characters from the Horrid Henry animated series.
Fun, fast paced mayhem where anyone can end up being a Smelly Nappy Baby.
To start, shuffle the cards and deal them all out to the players.
Each player looks at their cards and removes any pairs (matching cards) that they have.
Information
Format: General merchandize
Publisher: Paul Lamond Games
Publication Date: 01/07/2019
ISBN: 5012822043757