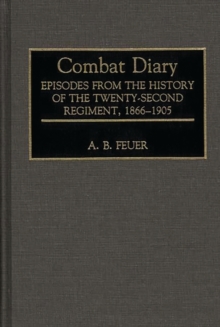 Combat Diary : Episodes from the History of the Twenty-Second Regiment, 1866-1905
Hardback
Description
Feuer has fine-tuned our understanding of the Spanish-American War and the Philippine Insurrection by unearthing and publishing for the first time an illuminating combat diary. . . . Serious students of American military history will appreciate the opportunity to compare nearly a century of changing interpretations with a most valuable primary source.
The editor of the Bilibid Diary, Feuer has once again rendered conspicious service to the historical profession. Barry F. Machado Professor of History Washington and Lee University The story of the Old Army as revealed through the eyes of Colonel Jacob Kreps, this book dramatically portrays life in action with the U.S.
Infantry on the Western frontier, in the Spanish-American War, and in the Philippine Insurrection.
Drawing on the first hand accounts preserved in the diary of Kreps, who served for more than 30 years with the U.S.
Twenty-second Infantry Regiment, A. B. Feuer details the hardships endured by the soldiers in combat action. Feuer recounts the experiences of the distinguished U.S.
Twenty-second Infantry Regiment beginning in 1883. He also discusses numerous other U.S. Army units--infantry, cavalry, artillery, engineering, medical, quartermaster and signal--and offers important data on the U.S.
Navy and U.S. Marine Corps. Some of the accounts, such as that of the Pasig River battle and the Mindanao campaign, fill in missing chapters in the chronicles of war history.
This book, which includes original maps and photographs, is valuable to anyone interested in military history.
Information
Format: Hardback
Pages: 192 pages
Publisher: ABC-CLIO
Publication Date: 14/08/1991
ISBN: 9780275939298
Free Home Delivery
on all orders
Pick up orders
from local bookshops