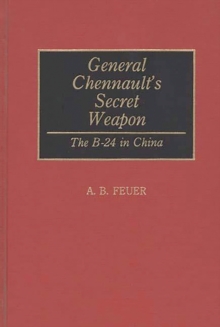 General Chennault's Secret Weapon : The B-24 in China
Hardback
Description
This book records the World War II experiences of Captain Elmer E.
Haynes, who flew low-altitude night radar strikes against Japanese shipping in the South China Sea, and daylight raids against various enemy land based installations in eastern and central China.
Haynes flew secretly developed B-24 Liberator bombers that were equipped with radar which had been integrated with the Norden bombsight for night missions.
These B-24's operated with the 14th Air Force--General Chennault's Flying Tigers.
The bombing attacks were so accurate and successful that, in a little over a year, Haynes and his fellow pilots had sunk approximately a million tons of Japanese shipping.
Due to the Top Secret classification of this equipment, the story of the radar B-24's, operating with the Flying Tigers, has never before been told. The war in the Pacific was definitely brought to a quicker end by the devastating destruction caused by the sinking of such a tremendous number of Japanese merchant and naval vessels in the South China Sea.
In its three years of operation, the 14th Air Force was credited with sinking two and a half million tons of enemy shipping. The radar-equipped B-24's were also used on reconnaissance missions--locating Japanese convoys for U.S. naval ships and submarines. Military historians, and anyone interested in World War II, will find this story highly informative, since it discloses never before published facts about the development of radar systems by the United States.
This same radar technique was used by B-17's during the saturation night bombing raids over Germany.
Information
Format: Hardback
Pages: 264 pages
Publisher: ABC-CLIO
Publication Date: 10/12/1992
ISBN: 9780275943530
Free Home Delivery
on all orders
Pick up orders
from local bookshops