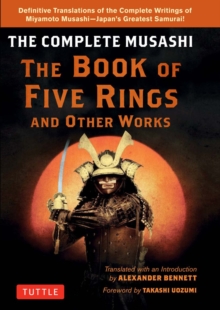 Miyamoto Musashi's Book of Five Rings : A Definitive Translation of the Timeless Masterpiece of Japan's Greatest Samurai
Hardback
Description
The culmination of 25 years of research, Alex Bennett's ground-breaking new English translation of The Book of Five Rings reveals the true meaning of the original.
Written by the famous Samurai Miyamoto Musashi (1584-1645), The Book of Five Rings is the most influential work on Samurai swordsmanship ever written, offering insights into Samurai history, the Zen Buddhist state of no-mind that enables warriors to triumph and the philosophical meaning of Bushido the way of the warrior. Until now, most English translations of The Book of Five Rings have been based on a single inaccurate copy of Musashi's long-lost original transcribed twenty-two years after his death.
Bennett's translation is the first to be based on a careful reconstruction of the text by Japan's foremost Musashi scholar.
By identifying discrepancies among the existing copies, adding missing text and correcting over 150 miscopied characters, this source is the closest representation of Musashi's original work possible.
Utilising this new source Bennett captures the subtle nuance of the classical Japanese text resulting in the most accurate English translation of The Book of Five Rings available.
Miyamoto Musashi's Book of Five Rings by Alex Bennett is richly annotated including an extensive introduction as well as translations of Musashi's other writings.
A respected scholar, Bennett is also a skilled martial artist.
His understanding of Musashi's methods provides a unique perspective.
This book will be widely read by students of Japanese culture, Samurai history and martial arts, setting a new standard against which all other translations will be measured.
Information
Format: Hardback
Pages: 240 pages, Colour photos
Publisher: Tuttle Publishing
Publication Date: 23/10/2018
Category: Oriental martial arts
ISBN: 9784805314760
Free Home Delivery
on all orders
Pick up orders
from local bookshops