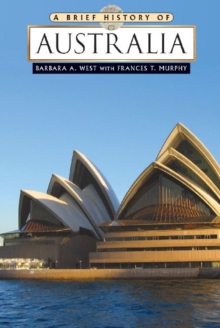 A Brief History of Australia
Paperback / softback
Description
A comprehensive introduction to Australia--from the time of Aboriginal settlement through the modern day.
Taking a largely Chronological approach, A Brief History of Australia looks at social, cultural, economic, and political trends in the country's long history, shedding light on its unique and complex identity.
Beginning with the peopling of the continent about 60,000 years ago, the volume examines the early history and culture of the Aboriginals.
It continues with the first documented sighting of the landmass by a European in the 17th century, followed by a discussion of the colonial period in the 18th and 19th centuries.
From the Federation of 1901 to the Liberal government of John Howard (1998 to 2007) and the Labor government of John Rudd (2007--present), this new book explores Australia's relationship to the British Crown, national security and education policy, the role of sport and environmental issues, Aboriginal rights, women's history, and gay rights.
Coverage includes: Aboriginal history; European exploration and early settlement; The gold rush and establishing self-rule; Federation and identity formation; Changes under the Labor Party; The immigration of cultures from around the world; Political tension from battling parties; An uncharted future, including the possibility of severing political ties with England.
Information
Format: Paperback / softback
Pages: 41 black-&-white photographs & illustrations, 5 maps, index, bibliography, suggested reading, chrono
Publisher: Facts On File Inc
Publication Date: 15/07/2010
Category: Australasian & Pacific history
ISBN: 9780816082513
Other Formats
Hardback from £36.55
EPUB from £44.96
Paperback / softback from £19.25