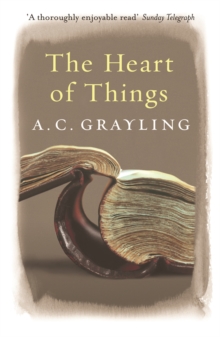 The Heart of Things : Applying Philosophy to the 21st Century
Paperback
Description
The new bestseller from one of Britain's most pre-eminent philosophers and arguably the best known, A.C.
GraylingEveryone wishes to live a life that is satisfying and fulfilling, in which there is achievement and pleasure, and which has the respect of people one, in turn, respects. And one of the fundamentals to living such a life is to reflect on the choices we make.In this new collection, A.C.
Grayling invites the reader into a conversation with ideas.
From personal questions about happiness and quality of life to wider public concerns such as war and democracy, these essays provide a springboard to thought and to exploring what is best about the human heart and mind.
Information
Format: Paperback
Pages: 288 pages
Publisher: Orion Publishing Co
Publication Date: 05/01/2006
Category: Popular philosophy
ISBN: 9780753819418
Free Home Delivery
on all orders
Pick up orders
from local bookshops
Reviews
Showing 1 - 1 of 1 reviews.
Review by reading_fox
16/06/2015
Better than the Meaning of Things, but still not that good.Again this is a collection of a series of newspaper columns, from various publications squashed together as if this makes them more worthy of consideration. Grayling cover much the same set of topics, but includes the added bonus of a few vinegrettes about the various famous philosophers of history and what makes them special. Mostly however this is once again Grayling offering his unsolicited and unsubstantiated opinion on ethics, which he defines as how to live a good life. He covers a few topics like liek war, love and cheating and has managed to make the Reading, that he covered previously slightly less random. This is true of all his articles, they are just better written than in the Meaning of things. Grayling often manages to leave the question open with a provocative twist at the end which does suceed (where Meaning failed) in encouraging at least some further thought on the matter. However this work does also suffer from many of the same failings, namely assumption of 'facts' that are debatable at best. There is one single solitary source quoted in the entire book. The rang eof themes has broadened slightly to look at some of the wider societal considerations, but by nowhere near enough when considering topics such as family planning. There is also massive and unsupported extrapolation from small events to wider conclusions. They may be just, but then again they may be nothing more than cloud castles in cuckoo land, there is no information to say. The profiles of the various philosophers do more to indicate why there views should be ignored -based in societies hundred of thousands of years removed from our own-, rather than as Grayling seems to be attempting to do, marking them as noteworthy. Less dull and less annoying than the Meaning of Things, this still is not recommended.