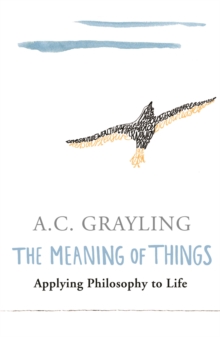 The Meaning of Things : Applying Philosophy to life
Paperback
Description
A refreshing distillation of insights into the human condition, by one of the best-known and most popular philosophers in the UK.Thinking about life, what it means and what it holds in store does not have to be a despondent experience, but rather can be enlightening and uplifting.
A life truly worth living is one that is informed and considered so a degree of philosophical insight into the inevitabilities of the human condition is inherently important and such an approach will help us to deal with real personal dilemmas.This book is an accessible, lively and thought-provoking series of linked commentaries, based on A.
C. Grayling's 'The Last Word' column in the GUARDIAN. Its aim is not to persuade readers to accept one particular philosophical point of view or theory, but to help us consider the wonderful range of insights which can be drawn from an immeasurably rich history of philosophical thought.Concepts covered include courage, love, betrayal, ambition, cruelty, wisdom, passion, beauty and death.
This will be a wonderfully stimulating read and act as an invaluable guide as to what is truly important in living life, whether facing success, failure, justice, wrong, love, loss or any of the other profound experience life throws out.
Information
Format: Paperback
Pages: 224 pages
Publisher: Orion Publishing Co
Publication Date: 04/07/2002
Category: Popular philosophy
ISBN: 9780753813591
Free Home Delivery
on all orders
Pick up orders
from local bookshops
Reviews
Showing 1 - 4 of 4 reviews.
Review by krypto
16/06/2015
Originally published in The Guardian, this collection of essays presents a rational philosophy that's never less than interesting and is frequently uplifting. His thoughts on hope, death, justice etc. are often very much like common-sense, but it's great (and oddly unusual) to hear somebody saying it so forcefully and eloquently. Irrational belief and cynicism are shown no mercy, and I seem to always put it down happier than I picked it up.
Review by reading_fox
16/06/2015
I intially bought this book because Grayling writes a series of articles in New Scientist that are informative speculation on the wider remit of science and society. It's hard to express just how much this book annoyed me. It's really quite poor, hopelessly naive, unsupported meanderings of no purpose. Perhaps it is best to obey Godwin's law and abandon the discourse at the first mention of Hitler/Nazi which doesn't take long at all. Stupidly I perserved, despite many indications that it wasn't going to get any better - which it didn't.A compiliation of 'Last Words' from the weekly Guardian newspaper articles. The intent is to make you think about everyday things that we take for granted around us - Peace, War, Religion etc. However I found the writing and particularly the arguments so poor, all I could think was WRONG, even when in the majority of cases I was actually in agreement with the point being made. For the most part these seem simply to be Grayling stating his opinion, which perhaps is fair enough, but opinions are like arseholes, everybody has one, and there's no particular to bare it to public scrutiny. Sometimes in perhaps half of the topics, he feels that a tiny bit of justification for his opinions might be required. This is better, although quite why he feels only half need justifying is not explained, are these the weaker half that need propping up? Or the only half for which there are justifcations? In any case his attempts to do so are pityfully poor. Some of the sources are works of fiction! Others are historical utterings which may or may not be fiction but are hardly relevant. The fact that ancient grecians once experienced similar insights does not make their answers any more correct just because they thought of them x thousand years ago. We might have hoped to have progressed since then. Finally there are appeals to 'facts' of the 'everyone knows' variety. Which are sometimes completely wrong, and at others very much open to debate and in any case really require some form of source or evidence, if you are going to build cloud castles a solid base is still required - otherwise all you are doing is engaging in daydreams, fun but not the point.Then of course there are the wild tangents. Probably acceptable in a full discourse upon a given subject, but when you are focusing and distilling complex thoughts into no more than few paragraphs they are just distracting. For example in a discourse upon reading and the intellectuial advantages in can beget when 'properly' conducted we suddenly jump through honey to a child's corpse and then to love. Maybe I just haven't read enough but I think it's fair to say if this left me beweildered then there was poor hope for the intended audience of guardian readers.Then of course sometimes Grayling takes bizzare positions, he is in favour of prostitution and non-mongagamous relationships, large extended families etc, which while philosphically they may be admirable, Grayling completely fails to realsie the wider social and environmental consequences of his position. Indeed this is a widespread gratuitous failing across all his naive thoughts. As single utopian ideas they perhaps have some merit, but you can't build a society or even exist as a person by collecting disparate ideas, they have to welded together into an annealed whole. Something that Grayling alludes to, but completely fails to impliment with his own thoughts.Good points - well there weren't any really. I agree with many of his ideas, but all of the arguments were poor. Even the easiest of targets, religion gets a misguided treatment. There are one or two superb diatribes against the folly that is modern religion, but they suffer all the faults of the other articles, poorly if at all supported by evidence, containing logical faults and irrelevancies. More in the nature of rants really, rather than philosophical arguments to convince another listener.Don't forget during all this criticism I basically agree with most of the points he was trying to make. As a liberal,anti-corporate, male athiest I had no problems with the thoughts Grayling was attempting to engender, it is solely the approach he has taken to doing so that fails completely. I dread to imagine how badly this book would be recieved by someone who may profit from the ideas suggested within it, ideally exactly the sort of person Grayling should be attempting to converse with. Instead it is a woefully out of tune and grating sermon to the converted. Leave it on the shelf there is much much better out there. Hopefully some it even written by Grayling.
Review by LynleyS
16/06/2015
I'm not sure how to go about reading this series of books by Grayling -- do I sit down and read a number of these short essays in one sitting, or do I savour them by reading one at a time, giving myself time to think about the contents before embarking on a new essay which feels completely different? I'm guessing the latter method, in which case these would be good for short commutes or perhaps before falling asleep if you're not *too* tired, but I didn't have the willpower to put down the book then get up and pick the same book up again, though I did try. I at once appreciate the brevity of the essays while at the same time wishing for something more thought-provoking, in which case a 'longread' form is necessary.<br/><br/>After reading most of the essays in two extended sittings, I say, 'Yeah and meh, he's basically right about stuff and has a knack for collecting quotes.'
Review by speljamr
27/08/2015
This was an excellent set of essays that are very thought provoking. It's worth taking the time to read just a few at a time and spend the rest of your time pondering each. I look forward to reading the other books in this series.