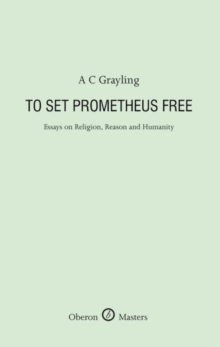 To Set Prometheus Free
Hardback
Description
While the brevity of the essays served its purpose in A.C.
Grayling's book Against All Gods, many correspondents have asked for a fuller statement of the case against religion, which Professor Grayling provides in To Set Prometheus Free with the essays collected here.
Information
Format: Hardback
Pages: 112 pages
Publisher: Oberon Books Ltd
Publication Date: 01/12/2009
Category: Philosophy
ISBN: 9781840029628
Free Home Delivery
on all orders
Pick up orders
from local bookshops
Reviews
Showing 1 - 2 of 2 reviews.
Review by TonyMilner
16/06/2015
Having some time back read 'the God Delusion' and found it disappointingly free of real arguments (rather than ad hominem rants and paper targets) along with a lack of any real understanding of epistemology, never mind metaphysics, I though a genuine philosopher - even if a rather irritating one - might give me something more to engage with. Alas no. More ad hominem rants and broad sweeping one sided generalisations and no attempt to engage with the arguments of theists. Ah well.Two points. The fact that there are good atheists and bad religious people does not actually contribute much to the question about the sources and the basis of morality.Second the claim that science started in a humanistic way with the Greeks, ground to a halt after the fall of the Roman Empire in the 4th century - which collapsed because it became Christian, and then did not emerge again until the enlightenment of the 16th century is both grossly simplistic and also simply not the case. Grayling claims that "The irruption into the classical world of the oriental superstition of Christianity interrupted the course of progress for a thousand years - the thousand years between the basilica of Maxentius in Rome and Brunelleschi's dome for Florence's cathedral, for until the latter was achieved, no-one knew how to repeat the architectural and engineering feat of the basilica" (23) Apart from anything else, this completely ignores the massive contribution of the medieval monastic orders made both to architecture and to agriculture. I could write much more - but instead I will invite any reader of this review to suggest a book which makes a good case for atheism which deals with questions such as freedom, meaning, goodness, love, beauty etc. without resorting to reductionism.The one chapter that is worth a read is the one on Bertrand Russell - but that is mainly because Russell himself is worth reading.
A nice little book of essays that discusses why it's perfectly okay to worship the spaghetti monster. Grayling - always good for a defense of rationality.
Also in the Oberon Masters Series series | View all