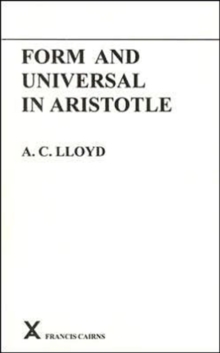 Form and Universal in Aristotle
Paperback / softback
Description
It would be difficult to overstate the importance of Aristotle for a number of intellectual disciplines from Antiquity into the Middle Ages and beyond.
However, Aristotle's philosophical ideas - both in themselves and as they were re-worked by later commentators - remain a subject of lively debate among contemporary philosophers and scholars. Form and Universal in Aristotle is a contribution to this controversy, offering the first full-length case against a conventional picture which presents Aristotle as holding an in re theory of universals.
Chapters 1-3 argue that forms as such are not universals but particular and identical with particular things.
Chapter 4 explains how Alexander of Aphrodisias filled some gaps in this theory and was followed by the Neoplatonic commentators.
Excursuses at various points in the book suggest a bearing of this approach on other philosophical difficulties in Aristotle, such as the nature of thought, the extent of God's thought, and the functions of matter.
Information
Format: Paperback / softback
Pages: 89 pages
Publisher: Francis Cairns Publications Ltd
Publication Date: 01/12/2006
ISBN: 9780905205052