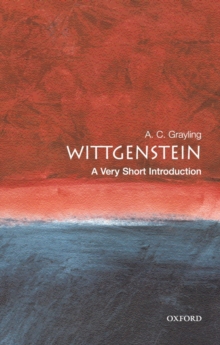 Wittgenstein: A Very Short Introduction
Paperback
Description
Ludwig Wittgenstein (1889-1951) was an extraordinarily original philospher, whose influence on twentieth-century thinking goes well beyond philosophy itself.
In this book, which aims to make Wittgenstein's thought accessible to the general non-specialist reader, A.
C. Grayling explains the nature and impact of Wittgenstein's views. He describes both his early and later philosophy, the differences and connections between them, and gives a fresh assessment of Wittgenstein's continuing influence on contemporary thought.
ABOUT THE SERIES: The Very Short Introductions series from Oxford University Press contains hundreds of titles in almost every subject area.
These pocket-sized books are the perfect way to get ahead in a new subject quickly.
Our expert authors combine facts, analysis, perspective, new ideas, and enthusiasm to make interesting and challenging topics highly readable.
Information
Format: Paperback
Pages: 160 pages, halftones and drawings
Publisher: Oxford University Press
Publication Date: 22/02/2001
Category: Biography: general
ISBN: 9780192854117
Free Home Delivery
on all orders
Pick up orders
from local bookshops
Reviews
Showing 1 - 2 of 2 reviews.
Review by dchaikin
16/06/2015
21. <b>Wittgenstein : A Very Short Introduction by A. C. Grayling</b> (1988, 142 pages, read Apr 20-28)Still thinking about reading Wittgenstein's <i>Tractatus</i>, I picked this up. Throughout this book, all the way to the closing section, I was really motivated because Grayling's explanation is really clear and makes following Wittgenstein seem suddenly very simple. (He doesn't do such a good job on <i>Philosophical Investigations</i>). But Grayling closes by telling us Wittgenstein was poetic, but really had very little content and wasn't much of a philosopher.I could write a lot about how to respond to that. I mean it leaves me questioning the entire book, and specifically whether Grayling oversimplified to make this point; and it also leaves me questioning why the heck I'm bothering with this content-less philosopher. And, well, I'm not sure which line of questioning is the right one.In any case even Grayling agrees that Wittgenstein was one of the most fascinating personalities of the 20th-century. This is the guy who never got his degree because he refused to respond to his advising professors suggestions on polishing up his work. He told the professor something to the effect that the professor should do all this work himself, because if he wasn't worth that kind of effort, then the work was crap. And then, later, Wittgenstein all but committed suicide in voluntary duty during WWI, volunteering for the most dangerous assignments. But he survived, and his experiences led directly to <i>Tractatus</i>. Wittgenstein slowly came to the conclusion that <i>Tractatus</i> was flawed, and spent the rest of his life explaining why, in the process exploring the nature and limits of language.Wittgenstein also killed a major work of his mentor, Russell Bertrand. He spent a day telling Bertrand the work was conceptually flawed. So, Bertrand stopped working on it. What is most interesting, and what I didn't know before this book, was that Bertrand never really understood Wittgenstein's criticism. He just felt that if Wittgenstein was so passionate about his criticism, it must be right in some way.
Review by tlockney
16/06/2015
I'm not sure I can justifiably call this a review. I listened to this as an audiobook, which I have to say is FAR less than ideal in this case. Grayling writes in a very dense and often difficult to follow way if you're not constantly able to back-reference previous statements. While the "A Very Short Introduction" does correctly describe the length of this book, I'd suggest that it really necessitates reading in a manner that would be equivalent to reading a book five to ten times its length. That said, there is a lot of detailed review of the progressions of Wittgenstein's philosophical development from the Tractatus up through the Philosophical Investigations (published posthumously) and his influence on other aspects of and practitioners of philosophy. Whether it is accurate or well-balanced, I am not qualified to judge.
Also in the Very Short Introductions series | View all