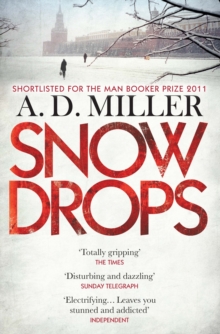 Description
Snowdrops. That's what the Russians call them - the bodies that float up into the light in the thaw.
Drunks, most of them, and homeless people who just give up and lie down into the whiteness, and murder victims hidden in the drifts by their killers.Nick has a confession.
When he worked as a high-flying British lawyer in Moscow, he was seduced by Masha, an enigmatic woman who led him through her city: the electric nightclubs and intimate dachas, the human kindnesses and state-wide corruption.
Yet as Nick fell for Masha, he found that he fell away from himself; he knew that she was dangerous, but life in Russia was addictive, and it was too easy to bury secrets - and corpses - in the winter snows...
Information
Format: Paperback
Pages: 288 pages
Publisher: Atlantic Books
Publication Date: 01/09/2011
ISBN: 9781848874534
Free Home Delivery
on all orders
Pick up orders
from local bookshops
Reviews
Showing 1 - 5 of 10 reviews.
Previous | Next
Review by Eyejaybee
16/06/2015
Unutterably tedious. Books as poor as this should come with the Samaritans' phone number printed on the cover!
Review by featherwate
16/06/2015
I downloaded Snowdrops after quickly scrolling through Audible UK for something tolerably exciting to pass the time on an imminent and boring train journey. The premise - corpse emerging from the snow at the end of a Moscow winter - sounded promising. Thirty years ago, after all, this had been the starting point for Martin Cruz Smith's brilliant thriller, Gorky Park.In the event, Snowdrops did see me through the journey but not in the way I had expected. As the "riveting psychological drama" it was claimed to be, it's a dud. Almost every development in the story is predictable, the characters have no hidden depths, and the narrator, an English commercial lawyer, is so vapid and naive that it beggars belief that his firm would ever have seconded him to the dragons' den of oil-boom Russia. What makes it an interesting read (or listen), is its description of that Russia - of Moscow in particular. The author vividly conveys the horror, frustration and farce of life under an insane bureaucracy, where everything and everyone are for sale but come with no guarantees they will stay bought. One is left at once desperately sorry for, and humbly admiring of, Moscow's inhabitants as they struggle to survive: dogged, ingenious, fatalistic and, given the chance, exuberantly joyful.So on balance, I'm glad I took a chance on it. Had I known what I discovered only afterwards - that Snowdrops had been [a] short-listed for the Mann Booker and [b] written by a journalist and praised by fellow journalists and ex-journalists in terms that would be OTT if applied to a newly-unearthed manuscript by an acknowledged literary giant - I'd have avoided it like the plague.
Review by martin1400
16/06/2015
Probably worth reading for the descriptions of life in Moscow in the period it's set in and, interestingly, for the sense it gives of the rigours of a Moscow winter, but the characters are two-dimensional and there are little holes in the plot which add up to making it less than 100% credible. It's also so relentless and world-wearily knowing in its cataloging of the brutishness of it Moscow life at this time that it ends up a bit predictable and leaves one wanting a bit more complexity in the characters, relationships and situations.
Review by Steve38
16/06/2015
A well written slow paced story of deception and disappointment of an expat in Moscow. Good observation of the unavoidable aspects of life as a well paid foreigner in the Russian capital with a well constructed story. But the device of the story teller baring all confessionally to a new partner is unnecessary and annoying and the plot and outcome are too easily seen too far ahead. But then the inevitability of the final outcome being seen by both the teller and the audience is really part of the experience that is being related. Although the principal character is duped and disappointed and leaves Moscow in gloomy failure the final sentence of 'I miss Moscow.' revealingly tells how Russia and Moscow get under the skin of foreigners who spend time there.
Review by BrianHostad
16/06/2015
A simple story of an ex-pat lawyer who becomes unintentionally involved in two cons, one corporate, one personal. It's brilliance is in how you get such a total feel for modern day Moscow and all the people there. A book that quickly and totally draws you in, strongly recommended.