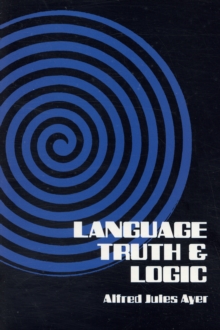 Language, Truth and Logic
Paperback
Free Home Delivery
on all orders
Pick up orders
from local bookshops
Reviews
Showing 1 - 3 of 3 reviews.
Review by rincewind1986
16/06/2015
Ayer is a very very under-rated philosopher, some people find logical positivism a little silly but personally i love it, basically the intellagent way of saying 'prove it' or 'why' to everything, and no one does it better than Ayer.
Review by JuliaF
16/06/2015
I know this is a seminal text but I'm finding it a tough read. The writing style is dense, reflecting its origin in the 1930's. It's a challenging book, posing the question of how we judge what truth is. Do we work purely from empirical observation, only accepting propositions that can be logically proven? Or is truth something else, wider, deeper? Perhaps truth value or meaning can be found outside or apart from language, and does not only reside within it? This book proposed that metaphysical and religious language was meaningless, as it could not be empirically verified. Ayer himself, later in life, acknowledged that his verification theory, proposed within this book, is false. However, it had great influence when it first came out which ensures its place on reading lists and bibliographies to this day.
Review by JorgeCarvajal
16/06/2015
I read the "squashed" version of the book and I can agree that while it is not "wrong", the content of the book is incomplete. But mostly, it is very intriguing and thought-provoking and it's a good start for enquiring about language and it's relationship with philosophy.