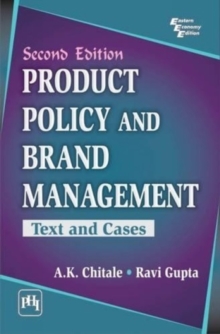 Product Policy and Brand Management : Text and Cases
Paperback / softback
Description
The book, now in its second edition, continues to elucidate the concepts and topics of Product Policy and Brand Management in concise and clear manner. The book is divided into four parts-Part I on Fundamentals of Product Management throws light on the concepts of product and its management, role of product managers, product life cycle, diffusion models, developing a product manager, and the product planning system and strategies.
Part II on New Product Development shows what are the barriers faced while developing a new product, the test marketing stages and its alternatives, launching of the product, future trends of product management and success stories.
Part III on Brand Management defines branding, branding decisions, brand equity, brand identity, and brand positioning.
Part IV gives an analytical and practical insight on the discussed concepts with the help of Live Case Studies. The book is primarily intended for the students of MBA, MMS, and ME/MTech (industrial Management).
Besides, would also be useful for the professional managers as well. New To This Edition:The new edition is packed with 11 new cases on:Tracking of a Product LaunchLong-run Market Share EstimationConversion of a Commodity to a BrandNew Product Development Approach to a Food ProductPortfolio Matrix Application
Other Formats
Paperback / softback from £15.95