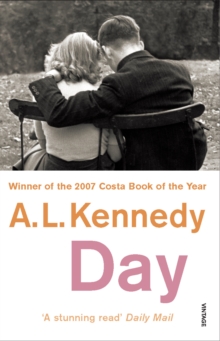 Day : Winner of the Costa Book of the Year Award 2007
Paperback
Description
Alfred Day wanted his war. In its turmoil he found his proper purpose as the tail-gunner in a Lancaster bomber; he found the wild, dark fellowship of his crew, and - most extraordinary of all - he found Joyce, a woman to love.
But that's all gone now - the war took it away. Maybe it took him, too. Now in 1949, employed as an extra in a war film that echoes his real experience, Day begins to recall what he would rather forget...
Information
Format: Paperback
Pages: 288 pages
Publisher: Vintage Publishing
Publication Date: 07/02/2008
ISBN: 9780099494058
Free Home Delivery
on all orders
Pick up orders
from local bookshops
Reviews
Showing 1 - 5 of 7 reviews.
Previous | Next
Review by abbottthomas
16/06/2015
This was not the easiest book to read. A L Kennedy's fragmented style gives the reader a stream of consciousness jumping between Alfred, the hero's, childhood, later relations with his parents, RAF training, bombing missions, wartime love affair, post-war work in a bookshop and POW camp life, both real and, later, re-enacted. It is sometimes difficult to keep pace with the jumps, particularly when the explanation of his capture and imprisonment is left so late in the book.The author creates a good picture of a man far from being at peace with himself. He was already damaged by his childhood so his war experience cannot take all the blame for this. He starts to learn to take risks with relationships and his tentative integration with his bomber crew is well worked. His love affair was less convincing - perhaps in this rather than the other masculine aspects of his life does the gender of the author become more evident.I was puzzled by the bookshop: who is Ivor, the rather solitary owner, and, more, why is he there? Alfred's interactions with him added little to the story for me.The book seeks to be redemptive but the ending is a little neat and tidy - well, OK, with ragged edges - and, as such, left me unconvinced.Overall, I think this is a worthwhile read, particularly for anyone interested in Bomber Command in WW2: the flying descriptions are evidently well researched.
Review by beetrootrabbit
16/06/2015
Although this was a Costa prize winner this book just would not keep my attention. Shame as it felt like it had real potential.
Review by dylanwolf
16/06/2015
Alison Louise Kennedy was born in Dundee, Scotland on 22 October 1965. What a tour de force then to write such an intimate novel about a WWII Brummie gunner named Alf Day. This is not writing what-you-know-about, it is an astonishing feat of sustained imagination.A deserved prizewinner for fiction; one would have imagined it was semi-autobiographical.
Review by Opinionated
16/06/2015
The voice takes a bit of getting used to - its one of those books where you need to commit to reading reasonable chunks at a time or you won't get into the rhythm of the language or the stream of consciousness of the narrator. But when you do, its quite moving and the depiction of the close bonds of wartime air crews, really all acting as one organsism, is the best I've read. I thought it was a remarkable illustration of why, for some, war can create a sense of belonging and purpose and togetherness that the "real world" can struggle to match. To be honest I wasn't really convinced by the "love" component, couldn't really see what the protaganist's love interest saw in him. But none the less, I was glad that somebody saw something and there was some prospect of fulifllment and belonging outside of war Overall, really very impressed, and I'll be trying to read some more of Kennedy's work
Review by PIER50
16/06/2015
Reading the cover, and seeing the recommendations in various books sections of newspapers, this suggested an interesting, imaginative and perhaps sad book set against the background of the second world war. Day is a deeply disturbed man, not surprising considering his background and being a tailgunner in a WW2 bomber. A disturbing, sad, uplifting and, in places odd, book. At times my concentration wondered as the book did, but ultimately it is worth reading and does make you think. The fact that the author A L Day is a young woman makes this an amazing insight