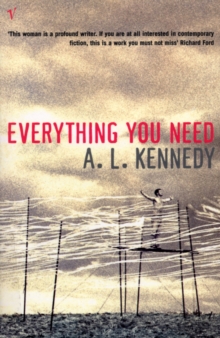 Everything You Need
Paperback
Description
Nathan Staples is consumed by loathing and love in roughly equal measures.
Frustrated by his life and the way he lives it, he is sustained only by his passionate devotion for his estranged wife and their teenage daughter, Mary.
When Nathan contrives to have Mary invited to the island where he lives in retreat, he sets in motion the possiblity of telling her he is her father, and becoming whole and complete and alive again.
Information
Format: Paperback
Pages: 576 pages
Publisher: Vintage Publishing
Publication Date: 04/05/2000
ISBN: 9780099730613
Free Home Delivery
on all orders
Pick up orders
from local bookshops
Reviews
Showing 1 - 1 of 1 reviews.
Review by Quixada
16/06/2015
Mary Lamb has been accepted to join a writing colony. She must leave her much beloved "uncles" and move to Foal Island where the colony is located. Her uncles are her real uncle and his partner. They have raised her since she was a little girl. The uncles are two of the most adorable characters that I have come across in fiction in a long time. The colony consists of:Joe, who is the founder and leader of the colony. He quit writing years ago. He is the stoic, calm voice of reason.Nathan Staples (our hero, or anti-hero?), who has written a decent novel, but has mostly made his living writing cheap romantic / murder / gore books. His editor and best friend, J.D. (who is a hilarious drunk), wants him to write another "proper" novel. J.D. lives in London. Nathan had to have a lung removed and must visit London frequently for medical checkups. While there, he and J.D. often drink heavily and attend publishing parties that they hate.Ruth, who was once bitten by a shark and is obsessed with talking about sharks. Linda, who has an overwhelming sexual appetite and has a curious obsession with certain vegetables. Richard, who lives with Linda. His right arm is shorter than his left and he feels that Linda only likes him because of what she can do with his small arm.Louis, who is the elderly historian of the colony.Mary Lamb, the newest resident.An unofficial member of the colony is Eckless, Nathan's very lovable dog. Eckless's name was originally Reckless, but Sarah (Joe's young daughter that he only gets to see when his ex-wife feels like letting her visit) couldn't pronounce "Reckless" and could only say "Eckless" so everyone started calling him Eckless. The main story centers around the fact that Nathan is really Mary's father, but she does not know it. He wants to tell her but can never seem to manage. He spends close to seven years trying to work up the nerve to tell her. He is her writing mentor and they develop a very close relationship. Nathan is still very much in love with her mother (and his ex-wife), Maura. The proper novel that Nathan finally writes is about him, Maura and Mary, and pages of the draft are interspersed throughout the novel.I enjoyed the book but did not find it as good as Kennedy's "Paradise". I thought it was too long (at 566 pages). I thought that some passages were unnecessary. For instance, I don't understand why Mary's romantic relationship with Jonathan was even included. It added nothing to the story and Jonathan was a very hollow character. Also, the ending was sort of a letdown for me.This wasn't one of my favorite novels but Kennedy still remains one of my favorite writers. She is a brilliant writer and I will read anything I can find by her.